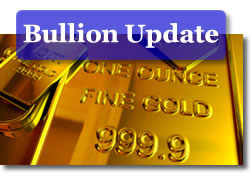 Gold on Tuesday declined for the first time in three days amid growing concerns over the European economic crisis. As was the case for much of last week, safe-haven buying flowed to the U.S. dollar instead of the yellow metal.
"There is nothing to sustain gold's rallies, so we're susceptible to these profit-taking bouts which will probably continue moving forward," Reuters quoted Frank McGhee, head precious metals trader of Integrated Brokerage Services LLC.
Gold prices for August delivery retreated $13.50, or 0.8%, to $1,574.90 an ounce on the Comex in New York. Prices moved from an intraday low of $1,568.20 to a high of $1,588.40.
"People are waiting on the sidelines to see what the next step will be in Europe," Fain Shaffer, the president of Infinity Trading Corp. in Medford, Oregon, said in a telephone interview cited on Bloomberg.
In other New York precious metals futures:
Silver prices for July delivery gave back 48.2 cents, or 1.8%, to settle at $27.038 an ounce. Silver ranged from an intraday low of $26.735 to $27.495.

Platinum prices for July delivery closed to $1,426.80 an ounce, falling $12.60 or 0.9%. The PGM metal traded between $1,425.10 and $1,443.60.

Palladium prices for September delivery declined $13.55, or 2.2%, to $593.70 an ounce, ranging from $591.30 to $607.50.
London Precious Metals
London precious metals were mixed for a second day. When comparing the latest London PM fixings:
Gold rose $6.00, or 0.4%, to $1,576.00 an ounce,
Silver jumped 72.0 cents, or 2.7%, to $27.44 an ounce,
Platinum declined $1.00, or 0.1%, to $1,433.00 an ounce, and
Palladium fell $4.50, or 0.7%, to $601.50 an ounce
U.S. Mint Bullion Coin Sales
Sales of the two most popular bullion products from the U.S. Mint climbed Tuesday, but the gains were modest compared to the previous three days. The one ounce, 22-karat American Gold Eagle added 2,000 and the American Silver Eagle advanced 25,000.
The following are the latest daily, June and year-to-date bullion coin sales totals as published by the U.S. Mint.
Sales of US Mint American Eagle and Buffalo Bullion Coins
Daily Gains
June Gains
YTD 2012
$50 American Eagle Gold Coins
2,000
45,000
275,000
$25 American Eagle Gold Coins
0
1,000
55,000
$10 American Eagle Gold Coins
0
4,000
50,000
$5 American Eagle Gold Coins
0
20,000
170,000
$50 American Buffalo Gold Coins
0
8,500
73,500
American Eagle Silver Coins
25,000
2,593,000
17,127,000
America the Beautiful 5 Oz. Bullion Silver Coin Sales
Daily Gains
June Gains
All-Time Total
2012 El Yunque National Forest 5 oz. Silver Bullion Coins
200
4,500
9,900
2012 Chaco Culture National Historical Park 5 oz. Silver Bullion Coins
3,200
3,200
3,200
2011 Olympic National Park 5 oz. Silver Bullion Coins
0
0
85,200
2011 Vicksburg National Military Park 5 oz. Silver Bullion Coins
0
200
38,600
2011 Chickasaw Park 5 oz. Silver Bullion Coins
0
0
28,900
TOTAL
3,400
3,500
162,400
All United States Mint bullion coin figures in the above tables are in coin totals, not the amount of ounces sold.