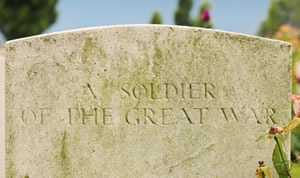 Coins struck in commemoration of the centennial of America's involvement in World War I will be issued in 2018.
President Obama penned his name to the World War I American Veterans Centennial Commemorative Coin Act, making it law and filling a void in commemorative coins. While other military conflicts have been memorialized on U.S. commemorative coins, one honoring veterans who served during the First World War has never been issued.
Fought predominantly on the European continent, hostilities related to World War I began in 1914. It was not until 1917, however, that the United States officially entered the conflict. An estimated four million men and women from the United States served in uniform during World War I, also known as the First World War or the Great War.
According to the terms of the new law, up to 350,000 silver dollars in collector proof and uncirculated qualities will be struck with designs emblematic of the centennial of America's involvement in the war. They will be produced and sold in calendar year 2018 to celebrate the 100th anniversary of the signing of the armistice with Germany on Nov. 11, 1918.
A design competition will decide the coin's imagery with an award of no less than $5,000 given to the winner. An expert jury chaired by the Secretary of the Treasury and consisting of 3 members from the Citizens Coinage Advisory Committee and 3 members from the Commission of Fine Arts will judge the designs.
WWI Veterans Centennial Commemorative Coins will be composed from 90% silver and 10% copper with a weight of 26.73 grams and diameter of 1.500 inches. They will bear inscriptions of their issue year, 2018, their value, 'Liberty', 'In God We Trust', 'United States of America' and 'E Pluribus Unum'.
Surcharges of $10 will be added to the sales price of each product issued from the commemorative coin program. Funds raised through the surcharge will be forwarded to the World War I Centennial Commission. The commission is tasked with planning and executing activities to commemorate the centennial of World War I. In the event that there is a balance of funds from surcharges received after the termination of the Commission, they would be transferred to the general fund of the Treasury.
The World War I American Veterans Centennial Commemorative Coin Act, numbered H.R.2366, passed in the House on Dec. 2 by a vote of 418 to 3 and then by unanimous consent in the Senate on Dec. 4. The president signed the legislation into law on Dec. 16. The bill was introduced by Congressman Doug Lamborn of Colorado.