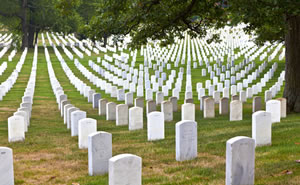 Two days after the World War I American Veterans Centennial Commemorative Coin Act passed in the U.S. House of Representatives, the U.S. Senate also gave it a thumbs up.
The bill, H.R.2366, heads to the President's desk next and is expected to be signed into law within days. When that happens, the United States Mint will be directed to strike up to 350,000 silver dollars in 2018 to help celebrate the centennial signing of the armistice with Germany, which ended World War I.
"This important bill gives us an opportunity to honor and remember more than four million American veterans who served our country during World War I," said Sen. Roy Blunt who introduced a similar version of the bill, S.2714, in the Senate.

"I thank my colleagues in the House and Senate for their unanimous support in passing this bipartisan legislation, and I look forward to the president signing this bill into law so we can encourage future generations to recognize the selfless sacrifice of these brave American heroes nearly 100 years ago."
Other great conflicts have been memorialized on United States commemorative coins, but not World War I, which is also known as the First World War or the Great War.
Per this coin act, World War I American Veterans Silver Dollars will be produced in collector finishes of proof and uncirculated, and they will bear designs emblematic of the centennial of America's involvement in the war. They will be struck in 90% silver and be available from the U.S. Mint in calendar year 2018.
H.R.2366 was introduced on June 13, 2013 by Rep. Doug Lamborn. On Dec. 2, 2014, it passed in the House by a vote of 418 to 3. It then passed in the Senate by unanimous consent on Dec. 4, 2014.