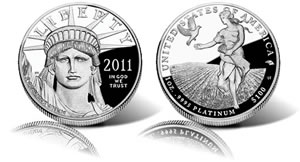 2011-W Proof American Platinum Eagle coins have sold out, just days after the 2012-dated version was released.
On Wednesday, August 15, 2012, the United States Mint pulled the American Platinum Eagle from its sales page and moved it to the "No Longer Available" section of its website.
Most recent U.S. Mint sales figures showed 14,836 coins sold, leaving 164 left around the afternoon time frame of Monday, August 13. With so few of them left, prospective buyers might have figured the time to buy was now or never.
Last year's collector proof coin was released on May 26, 2011 at an opening price of $2,092.00. Pricing retreated with platinum falling in recent months, and the coin sold out with a final price tag of $1,692.00.
Its mintage limit was set at 15,000. That is also the same mintage as this year's coin which debuted last Thursday, August 9, 2012.
Designs on the two platinum coins differ, since the U.S. Mint is rotating the artwork on the reverse side for the six year Preamble series that started in 2009. The theme of the 2011 Proof American Platinum Eagle is emblematic of the principle, "To Insure Domestic Tranquility," and the theme of the 2012 strike represents the principle, "To Provide for the Common Defence."
All Platinum Eagle's are composed from 99.95% pure platinum. Each has a face value of $100, the largest in American coinage today. The one-ounce coins have a diameter of 1.287 inches and weigh 1.005 troy ounces.
To make a purchase of the 2012 Proof American Platinum Eagle, buyers can go to the U.S. Mint website at http://www.usmint.gov/catalog or call 1-800-USA-MINT (872-6468).