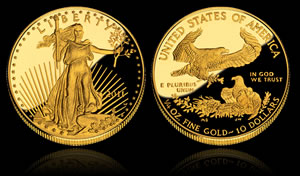 Another collectible 2011-W Proof American Gold Eagle coin is no longer available. The United States Mint on Wednesday signaled that the individual $10 Proof Gold Eagle has sold out, marking the second in the series to go following a sellout of the largest $50 version in October.
Both coins remain available within the 2011-W Proof Gold Eagle Four-Coin Set, but the price point is much higher for that collection at $3,400.50. The $10 coin, which contains a quarter-ounce of 22-karat gold, had been priced at $478.00.
Sales of the proof surged after the United States Mint cut its price by $25 last Wednesday. Collectors snapped up 2,116 in a week as compared to a modest increase of 87 just one week earlier. Its latest sales total as of Tuesday, December 27, was 10,381.
The following table lists all the proof American Gold Eagle options, including product limits, mintages, current sales and current United States Mint prices:
2011-W Proof Gold Eagle Coins — Product Limits, Mintages, Sales*   
 
PRODUCT
LIMIT
MINTAGE
LIMIT
CURRENT SALES
NOTES/PRICE
$50 Proof Gold Eagle Coin (1 oz)
30,000
70,000
30,000
SOLD OUT
$25 Proof Gold Eagle Proof Coin (1/2 oz)
15,000
55,000
6,823
$931
$10 Proof Gold Eagle Coin (1/4 oz )
16,000
56,000
10,381
SOLD OUT
$5 Proof Gold Eagle Coin (1/10 oz )
30,000
70,000
18,828
$205.50
4-Coin Set
40,000
N/A
16,202
$3,400.50
As the table highlights, when first released, the United States Mint indicated that it would offer up to 16,000 of the $10 Eagles individually, as well as the 40,000 allowed within the four-coin set. Based on the latest sales figures, however, it would appear that the Mint did not produce as many of the coins as it first projected, and thus the sellout. This is not uncommon, as early demand will often dictate how many coins are actually struck.
American Gold Eagles debuted in 1986 with two types available — bullion versions intended for investors and proofs minted for coin collectors. The 2011 bullion Eagles were released through the United States Mint network of authorized dealers on January 3. These coins do not carry a West Point "W" mint mark nor have a special finish. The Mint announced Wednesday that it would begin accepting orders for the 2012-dated bullion Eagles on January 3. Bullion coins are distributed through a network of "Authorized Purchasers" or AP's, and not sold directly to the public by the Mint.
Also available from the United States Mint is the 2011-W $50 Uncirculated Gold Eagle Coin, currently priced at $1,828.00. These collector coins joined the American Eagle program in 2006.