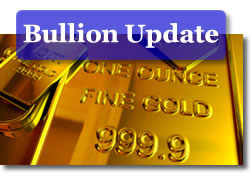 Gold prices rose Thursday as the U.S. dollar weakened and the euro strengthened in the wake of news that Greece leaders agreed to austerity measures to secure a financial bailout.
Thursday's trading was "all about the dollar, and the Greek deal is supporting the euro, weakening the greenback," MarketWatch notes and quotes Darin Newsom, a senior analyst at Telvent DTN.

Gold is "trading opposite the U.S. dollar index again," said Newsom. "Fundamentals have been tossed out the window for now with the main driver being the direction of the dollar. Gold, crude oil, and most other commodities are rallying."
Gold gained $9.90, or 0.6% to $1,741.20 an ounce in the April futures contract on the Comex in New York. Gold moved between a low of $1,728.10 and a high of $1,755.50.
"We remain somewhat cautious on the precious metals group here, as we could see a 'buy the rumor, sell the news' type of reaction in the wake of the culmination of the Greek talks," Reuters quoted Edward Meir, metals analyst at INTL FCStone.
Silver prices for March delivery added 21.3 cents, or 0.6%, to settle at $33.917 an ounce. Silver touched a low of $33.675 and reached a high of $34.450.
Platinum prices for April delivery declined 50 cents to $1,667.60 an ounce, ranging from $1,656.10 to $1,674.00.
Palladium prices for March delivery fell $4.60 or 0.6%, to $711.30 an ounce, trading between $708.05 and $718.65.
London Precious Metals
With the exception of silver which fell 57.0 cents to $33.80 an ounce, precious metals in London advanced. When comparing the London PM fixings between Wednesday and Thursday, gold rose $2.00 to $1,748.00 an ounce, platinum added $12.00 to $1,659.00 an ounce and palladium gained $6.00 to $713.00 an ounce.
U.S. Mint Bullion Coins
Sales levels for U.S. Mint bullion coins were unchanged Thursday. The latest daily, February and year-to-date U.S. Mint bullion coin sales are provided below.
Sales of U.S. Mint American Eagle and Buffalo Bullion Coins
Daily Gains
Feb. Gains
YTD 2012
American Gold Eagles (1 oz.)
0
8,000
92,500
American Gold Eagles (1/2 oz.)
0
0
49,000
American Gold Eagles (1/4 oz.)
0
2,000
40,000
American Gold Eagles (1/10 oz.)
0
0
85,000
American Gold Buffalo Coin (1 oz.)
0
1,500
15,000
American Silver Eagles
710,000
6,817,000
Sales of America the Beautiful 5 Oz. Silver Bullion Coins
Prior Weekly
Weekly Gains
All-Time Total
Olympic National Park 5 oz. Silver Coin
0
0
84,600
Vicksburg National Military Park 5 oz. Silver Coin
0
0
37,300
Chickasaw Park 5 oz. Silver Coin
0
0
28,100
TOTAL
0
0
150,000
All bullion coin totals in the above tables are in the number of coins sold, not the amount of ounces. The latest five-ounce sales were provided by the U.S. Mint on Friday, January 27, 2012. The Mint does not publish daily sales figures for its five-ounce silver coins. Although, since the last released date is more than two weeks past, there likely has not been new sales to report.