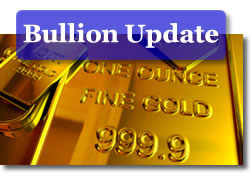 Gold edged 0.3 percent lower Tuesday, marking a second straight day of losses and a seven-week low. Other precious metals posted modest gains, with silver leading them with its 0.8 percent increase.
All major metals declined sharply in after-hours trading, however, after the release of the Fed's FOMC monthly statement which was noticeably missing any hints of more quantitative easing.
Gold prices shed $5.10 to $1,663.10 an ounce in the February futures contract on the Comex in New York. It was gold's lowest settlement price since October 24. Concern over Europe's debt crisis and a stronger U.S. dollar were attributed to the lower closing.
"The dollar's strength is working against gold," Frank McGhee, the head dealer at Integrated Brokerage Services LLC in Chicago, said in a telephone interview that was relayed on Bloomberg. "We will continue to see liquidation because of the uncertainty surrounding Europe."
For the day, gold traded between $1,654.40 and $1,681.70.
"So much damage has been done to the psychology of the market in the past week…that we think wholesale liquidation shall be the outcome," Reuters quoted veteran trader Dennis Gartman, a long-time gold bull who completely exited his gold position on Monday. "We can imagine gold trading back toward 1,075-1,125 euros or toward $1,475-$1,525 an ounce."
After plunging 3.9 percent Monday, silver prices for March delivery advanced 25.8 cents to $31.260 an ounce. Silver prices moved between $30.940 and $32.040.
Platinum prices for January delivery gained $5.40, or 0.4 percent, to $1,492.30 an ounce, trading from $1,484.00 to $1,506.20.
Palladium prices for March delivery advanced $1.15, or 0.2 percent, to $664.15 an ounce, ranging between $650.90 and $674.40.
London Precious Metals
Earlier set London precious metals fixings were mixed. When comparing each London Fix on Tuesday (PM) from Monday (PM), gold gained $13.00 to $1,672.50 an ounce, silver prices rose 12.0 cents to $31.34 an ounce, platinum added $7.00 to $1,492.00 an ounce and palladium declined $2.00 to $661.00 an ounce.
U.S. Mint Bullion Coins
The U.S. Mint published gains across each of its one ounce bullion coins — a trend that has been somewhat popular in recent months when precious metals show weakness. The Mint's gold bullion coins have now advanced in six of the last seven days. The American Gold Buffalo advanced 500 to 9,000 for the month, surpassing its 8,500 sales total from the previous month. The American Gold Eagle rallied 12,500 to 32,500 for December, or just 6,000 shy of matching its November total.
American Silver Eagle bullion coins gained 125,000, lifting their December sales to 1.356 million. That is 28,000 away from equaling November.
The latest daily, monthly, and year-to-date U.S. Mint bullion coin sales follow:
Sales of U.S. Mint American Eagle and Buffalo Bullion Coins
Daily Gains
December Gains
YTD 2011
American Gold Eagle Coin (1 oz.)
12,500
32,500
877,000
American Gold Eagle Coin (1/2 oz.)
0
0
65,000
American Gold Eagle Coin (1/4 oz.)
0
0
82,000
American Gold Eagle Coin (1/10 oz.)
0
0
370,000
American Gold Buffalo Coin (1 oz.)
500
9,000
162,500
American Silver Eagle (1 oz.)
125,000
1,356,000
39,215,500
Sales of America the Beautiful 5 Oz. Silver Bullion Coins
Gains Over Last Week
YTD 2011
Gettysburg National Military Park 5 oz. Silver Coin
n/a – sold out
126,700
Glacier National Park 5 oz. Silver Coin
n/a – sold out
126,700
Olympic National Park 5 oz. Silver Coin
0
83,300
Vicksburg National Military Park 5 oz. Silver Coin
0
32,500
Chickasaw Park 5 oz. Silver Coin
400
25,100
TOTAL
400
394,300