In what could end up being an about-face in government policy, new legislation was introduced in the United States Senate on Tuesday, January 31, 2012 seeking to replace paper dollar bills with $1 coins.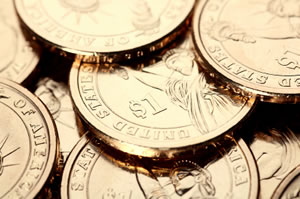 The proposed bipartisan bill, entitled the Currency Optimization, Innovation, and National Savings (COINS) Act, S. 2049, was introduced by Senator Tom Harkin of Iowa and Senator John McCain of Arizona.
If passed and signed into law, the COINS Act would effectively serve as a reversal to the December order by Secretary of the Treasury Timothy Geithner which halted production on all circulating Presidential $1 Coins, making future dollars available only to coin collectors. The suspension was part of a broader Campaign to Cut Government Waste established by President Barack Obama earlier last year.
At the time, estimates had Federal Reserve Banks sitting on an estimated $1.4 billion worth of $1 coins which are stored in vaults. That stockpile was believed to be enough to last a decade based on current consumer demand which has always been poor as most American's prefer lighter $1 Federal Reserve Notes over heavier $1 coins.
By ending production on circulating $1 coins, those responsible hoped to save millions. However, eliminating dollar bills and replacing them with $1 coins has been estimated by the General Accounting Office to save somewhere between $200 and $500 million per year with some estimates totaling over six billion dollars in thirty years.
"Promoting the dollar coin is a smart investment for our country that saves taxpayer's money," said Senator Tom Harkin about the introduction of the COINS ACT. "With the deficit looming, we need only look at the cost-savings from this effort to understand why this legislation is so urgently needed. I am hopeful that this bipartisan legislation will continue to gain traction in Congress."
$1 coins initially cost more to produce than their paper counterparts. However, dollar bills only have a lifespan of about 4.7 years on average. In comparison, the U.S. Mint states that the average life of a coin is around twenty-five years.
"With our Nation's debt now over $15 trillion, Congress must look at every area of the federal government, big or small, to save money," said Senator John McCain. "By moving from the costly dollar bill to the dollar coin, we can save real money and show the American taxpayer that we are serious about cutting spending in Washington."
Co-sponsoring the Senate legislation was Senators Tom Coburn of Oklahoma and Mike Enzi of Wyoming. S. 2049 has been referred to the Senate Committee on Banking, Housing, and Urban Affairs.
The legislation was offered to compliment H.R. 2977, which is also entitled the COINS Act. H.R. 2977 was introduced by Rep. David Schweikert in the House of Representatives on September 20, 2011 and currently has 12 cosponsors.
For any version of the Currency Optimization, Innovation, and National Savings (COINS) Act to become law, it must pass in both the Senate and House and get signed by the President.