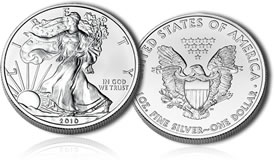 The United States Mint's bullion 2010 American Silver Eagles continue to move like hot cakes, posting their second best sales number ever for an April.
US Mint buyers scooped up 2,507,500 of the one ounce, .999 fine silver pieces during the month.
However, April's demand was down from that of March, which remarkably ended with a new quarterly sales record. March 2010 sales registered at a whopping 3,381,000.
In another sign that Silver Eagle demand has declined from record levels, last month's figure was 10,500 lower than the total from April 2009 — although that month happened to be the best April ever for the series, as the following chart highlights:
U.S. Mint Bullion Silver Eagle April Sales: 1986-2010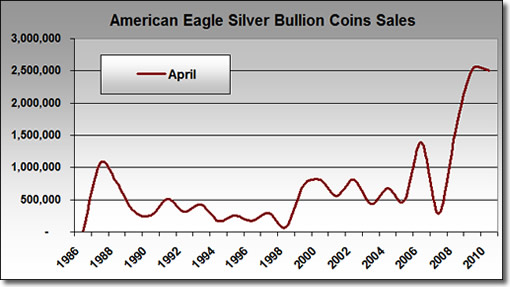 Still, it is way too early to forecast a continuing decline for the coins. (Especially since silver prices have been driving toward $19 an ounce.) The beginning four-months in 2010 have set a new record with 11,531,000 eagles sold. Last year's tally through April was 9,675,000; the year before came in at 5,809,000. Totals did not reach even half of the current level when going back any further.
U.S. Mint Bullion Silver Eagle Sales: January – April (1986-2010)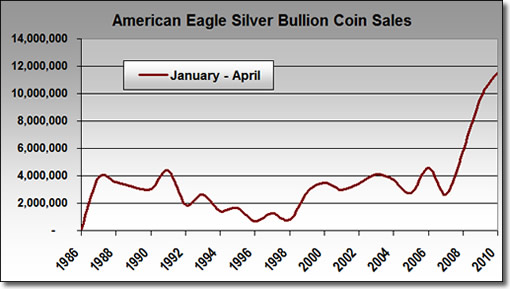 Collector (proof and uncirculated) 2009-W Silver Eagles were canceled due to the unprecedented demand for the bullion versions. Unless that demand tapers off or supply catches up, there is a potential for 2010-W American Silver Eagle cancellations as well.
United States Mint bullion coins were authorized by Congress to "provide investors with a convenient and cost effective way to add a small amount of physical platinum, gold, or silver to their investment portfolios."
The Mint does not offer bullion American Eagles directly to the public, but instead to a small group of authorized purchasers who in turn resell the coins to investors, dealers and collectors.