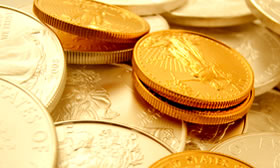 First quarter sales of U.S. Mint bullion coins were strong for American Gold Eagles and record-setting for American Silver Eagles, even as gold and silver prices plunged.
March sales of American Eagle bullion coins did retreat from the previous month, just as sales in February slowed from January. Demand for Eagles tends to surge in January as that is when newly dated bullion coins debut.
Sales for the month have been up and down from one year to the next. In the bigger trending picture, year-over-year numbers are rising in March — sharply for Silver Eagles and more modestly for Gold Eagles.
American Eagle Year-Over-Year March Sales (2004 – 2013)
Gold Eagles (oz)
Silver Eagles (oz)
March 2013
62,000
3,356,500
March 2012
62,500
2,542,000
March 2011
73,500
2,767,000
March 2010
102,000
3,381,000
March 2009
136,500
3,132,000
March 2008
50,000
1,855,000
March 2007
13,000
762,000
March 2006
43,000
1,072,000
March 2005
36,500
650,000
March 2004
50,500
348,000
2013 American Eagle Silver Bullion Coins
March sales of Silver Eagles reached 3,356,500 coins. That is 14th in all-time monthly ranking, a more impressive total when considering that the 99.9% pure silver series launched in 1986. The level does mark a slight drop of 12,000, or 0.36%, from the previous month but it is 32.0% higher than the 2,542,000 coins moved in March 2012.
First quarter sales were on fire. U.S. Mint authorized purchasers ordered 14,223,000, marking a new quarterly record. In 2012, the bullion coins did not hit the 14 million mark until May 25. The Silver Eagle's current annual sales record of 39,868,500 happened in 2011. First quarter sales then were noted as spectacular at 12,429,000, which is nearly 1.8 million less than this year's three-month start.
Silver Eagles sales were suspended in mid-January due to exhausted inventories. The United States Mint resumed sales by the end of that month but continues to limit how many authorized purchasers may order.
2013 American Eagle Gold Bullion Coins
March sales of 22-karat American Eagle gold coins totaled 62,000 ounces, down 23.0% from February's 80,500 ounces and off a modest 0.8% from the same month last year when orders accumulated to 62,500 ounces.
For the January through March period, sales combined to 292,500 ounces for a 39.0% improvement over the 210,500 ounces sold during the first quarter of 2012.
American Buffalo Gold Bullion Coins
March sales of 24-karat American Buffalo gold coins reached 11,000 ounces. The total is down 500, or 4.3%, from the previous month and off 15,000, or 57.7%, from March 2012 — a month that was the strongest of the year.
First quarter sales summed to 95,000 ounces to more than double sales of 46,500 ounces from the same period last year.
American Eagle Palladium Bullion Coins
Last month the U.S. Mint submitted a Palladium Eagle study as it was required to do by Public Law 111-303, the same law which authorizes the production of American Eagle palladium bullion coins. The commissioned study by CPM Group LLC was given to Congress on March 1, 2013. It projected little demand for bullion Palladium Eagles but also noted that collector versions could turn a profit.
Public Law 111-303 mandated the study to make sure the coins could get produced and issued at no net cost to taxpayers, and it required bullion versions within a year of its submission to Congress. The law, however, does not have provisions should the study show a taxpayer cost. It is not clear what direction the U.S. Mint will take.
America the Beautiful Five Ounce Silver Bullion Coins
March sales of 99.9% pure America the Beautiful Five Ounce Silver Bullion Coins totaled 19,800 coins for a 38.1% up-tick from February sales of 14,340 coins. Only 1,800 ATB bullion coins sold during the same time last year. More would have moved last month but the U.S. Mint's inventory sold out on the first day. The U.S. Mint has not yet introduced any of the five ounce coins for this year.
Sales breakdowns of 2011-2012 America the Beautiful Five Ounce Silver Bullion Coins are:
2011 Gettysburg Silver Coins at 126,700
2011 Glacier Silver Coins at 126,700
2011 Olympic Silver Coins at 104,900
2011 Vicksburg Silver Coins added 10,400 in March for a total of 58,100
2011 Chickasaw Silver Coins advanced 8,800 for the month for a total of 48,700
2012 El Yunque Silver Coins at 24,000
2012 Chaco Culture Silver Coins gained 600 in March for a total of 24,400
2012 Acadia Silver Coins at 25,400
2012 Hawai'i Silver Coins at 20,000
2012 Denali Silver Coins at 20,000
In total, first quarter sales reached 63,100 coins. 7,800 sold during the January through March period of last year.
Sales Across All U.S. Mint Bullion Products
Below is a breakdown of the latest U.S. Mint bullion coin sales by product type, month and year-to-date, which is also the first quarter totals. For comparative purposes, added are monthly sales totals from a year ago. All sales are in the number of bullion coins sold, not in the amount of ounces.
Monthly and YTD Sales US Mint Bullion Coins
(# of coins)
Last Year March
January 2013
February 2013
March 2013
YTD Sales
American Eagle Gold (1 oz)
57,500
124,500
68,000
54,000
246,500
American Eagle Gold (1/2 oz)
2,000
17,000
5,000
4,000
26,000
American Eagle Gold (1/4 oz)
0
24,000
12,000
10,000
46,000
American Eagle Gold (1/10 oz)
40,000
110,000
70,000
35,000
215,000
American Buffalo Gold (1 oz)
26,000
72,500
11,500
11,000
95,000
ATB Silver Coins (5 oz)
1,800
28,960
14,340
19,800
63,100
American Silver Eagle
2.542M
7.498M
3.3685M
3.3565M
14.223M