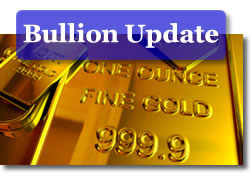 Gold edged down 0.2%, matching its previous day percentage loss. Better-than-expected U.S. economic reports gave support to the greenback, opined analysts, which also tempered precious metals buying outside of palladium.
"Weekly jobless claims, December consumer sentiment and November leading economic indicators all came in better than expected," MarketWatch quoted Darin Newsom, a senior analyst at Telvent DTN. "This continued to take a little bit of the 'safe-haven' wind out of gold's sail."
Gold prices lost $3.00 to settle at $1,610.60 an ounce in the February futures contract on the Comex in New York. In easily the thinnest trading of the week, the yellow metal moved from an intraday low of $1,599.10 to a high of $1,618.60. Bloomberg also reported that bullion-backed EFTs dropped for a fifth straight day.
"The jobless numbers were better than expected, and we're seeing the dollar strengthen again," Dennis Cajigas, a senior market strategist at Zaner Group in Chicago, said in a telephone interview that was recounted on Bloomberg. "The U.S. economy is starting to find some traction. The ETF numbers are also a factor."
Silver prices for March delivery dropped 20.2 cents, or 0.7%, to close at $29.047 an ounce. Silver touched a low of $29.000 and reached a high of $29.685.
Platinum prices for January delivery closed down $7.30, or 0.5%, to $1,424.40 an ounce, ranging between $1,415.80 and $1,435.80.
Bucking the trend of other major metals, palladium prices for March delivery surged $20.30, or 3.2%, to $654.40 an ounce. Palladium prices traded from $627.00 to $659.90.
London Precious Metals
London precious metals came in with modest losses except for silver which shouldered a stout percent fall of 1.5%. When comparing London fixings on Thursday from those on Wednesday (PM to PM), gold edged down $1.50 to $1,606.50 an ounce, silver fell 45.0 cents to $29.30 an ounce, platinum declined $11.00 at $1,414.00 an ounce and palladium prices stepped back $1.00 to $631.00 an ounce.
U.S. Mint Bullion Coins
Following a day of no reported bullion coin activity, the U.S. Mint on Thursday published sales increases of 3,000 for its American Gold Buffalo and 100,000 for its American Silver Eagle — the latter now with sales above 2 million for the month. The latest daily, monthly, and year-to-date U.S. Mint bullion coin sales follow:
Sales of U.S. Mint American Eagle and Buffalo Bullion Coins
Daily Gains
December Gains
YTD 2011
American Gold Eagle Coin (1 oz.)
0
65,500
910,000
American Gold Eagle Coin (1/2 oz.)
0
0
65,000
American Gold Eagle Coin (1/4 oz.)
0
0
82,000
American Gold Eagle Coin (1/10 oz.)
0
0
370,000
American Gold Buffalo Coin (1 oz.)
3,000
20,000
173,500
American Silver Eagle
100,000
2,009,000
39,868,500
Sales of America the Beautiful 5 Oz. Silver Bullion Coins*
Gains Over Last Week
YTD 2011
Gettysburg National Military Park 5 oz. Silver Coin
n/a – sold out
126,700
Glacier National Park 5 oz. Silver Coin
n/a – sold out
126,700
Olympic National Park 5 oz. Silver Coin
0
84,100
Vicksburg National Military Park 5 oz. Silver Coin
500
33,800
Chickasaw Park 5 oz. Silver Coin
500
26,400
TOTAL
1,000
397,700
*The United States Mint does not always provide daily sales figures for its 5-ounce silver coins. The sales are current as of Monday, December 19, 2011.