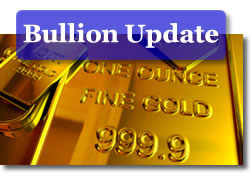 U.S. gold prices fell slightly Thursday in another session of low-volume trading and year-end profit-taking. The yellow metal slipped 0.5 percent.
"Investors have had a good year in gold and commodities, and they want to take some of that money home," Leonard Kaplan, the president of Prospector Asset Management in Evanston, Illinois, said and was quoted on Bloomberg.
Silver and platinum followed gold with respective losses of 0.2 and 0.5 percent. Palladium, however, edged higher on the day with gain of 0.4 percent.
New York closing prices follow:
Gold prices for February delivery fell $6.90 to $1,380.50 an ounce on the Comex in New York. Prices ranged from $1,372.60 to $1,389.00. Gold has advanced 25.9 percent this year.
March silver prices declined 5.7 cents to $29.328 an ounce. They ranged from $28.945 to $29.420. Silver has surged 74.1 percent in 2010.
Platinum prices for January delivery lost $7.80 to $1,723.10 an ounce. Platinum ranged between $1,711.00 and $1,731.90. Platinum is 17.1 percent higher this year.
Palladium prices for March delivery advanced $2.95 to close at $758.10 an ounce. Palladium ranged from $744.70 to $758.50. The metal has soared 85.4 percent in 2010.
In PM London bullion prices, the benchmark gold fixing was $1,373.50 an ounce. The price marked a daily loss of $13.50. Silver declined 17.0 cents from the previous fixing to $29.180. Platinum was $1,720.00 an ounce, down $8.00. Palladium was $752.00 for a loss $5.00.
U.S. Mint bullion coin sales were unchanged, with the latest available figures following:
U.S. Mint 2010 Bullion Coin Sales
December*
2010 Totals
American Eagle Gold Coin (1 oz)
55,500
1,140,000
American Eagle Gold Coin (1/2 oz)
1,000
46,000
American Eagle Gold Coin (1/4 oz)
2,000
62,000
American Eagle Gold Coin (1/10 oz)
5,000
390,000
American Buffalo Coin (1 oz)
Sold Out
209,000
American Eagle Silver (1 oz)
1,772,000
34,662,500
Sales have an "as of date" of December 23.