The United States Mint made the 2011 Lucretia Garfield First Spouse Gold Coins available on Thursday, December 1, at noon Eastern Time. The 24-karat gold collector coins are the fourth issue of this year and the twenty first in the series.

The strikes are available in two versions, proof and uncirculated. The proof's price is $1,029.00 and the uncirculated coin's price is $1,016.00. Like other numismatic gold offerings from the United States Mint, prices may change weekly, depending on the rise or fall of gold prices on the London Fix.
The new coins honor Lucretia Garfield, wife of James Garfield who served as the twentieth President of the United States. Lucretia Rudolph Garfield married her husband in 1858 while he pursued an academic career. Shortly thereafter, he entered a long political career while she raised their children. Lucretia was reserved, well-educated and shared his intellectual interests. Her hobbies included literature, art, and foreign languages.
Each First Spouse coin is struck from 1/2 ounce of 99.99 percent fine gold, and the United States Mint only offers them for a limited time. The Mint may halt sales in less than a year and before their maximum mintage based on earlier sell outs like the final 2010-dated coin.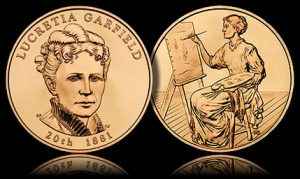 Also released by the United States Mint Thursday is the 1 5/16 inch Lucretia Garfield bronze medal for $7.95 and the 2011 First Spouse Four-Medal Set for $19.95. The bronze medals share the same designs as those on the First Spouse Gold Coins. The four medal set features Lucretia Garfield as well as Eliza Johnson, Julia Grant, and Lucy Hayes.  
Lucretia Garfield Coin Designs
A portrait of Lucretia Garfield is on the obverse of the coin. The image was designed by Barbara Fox and sculpted by Phebe Hemphill. The inscriptions on the obverse include "LUCRETIA GARFIELD," "IN GOD WE TRUST," "LIBERTY", "2011," "W" (denoting the United States Mint facility at West Point), "20th", and "1881."
The reverse or tails side of the coin depicts Lucretia Garfield as she paints on a canvas with her brush and palette in hand. The design was created and sculpted by Michael Gaudioso. Reverse inscriptions are "UNITED STATES OF AMERICA," "E PLURIBUS UNUM," "$10," "1/2 OZ.," and ".9999 FINE GOLD."
Order, Mintage and Pricing Information
Customers may place orders for the Lucretia Garfield First Spouse Gold Coins or bronze medals at http://www.usmint.gov/catalog or at 1-800-USA-MINT (872-6468). Hearing and speech-impaired customers with TTY equipment may order at 1-888-321-MINT (6468). A $4.95 shipping and handling charge applies to all domestic orders.
The gold coins and bronze medal are each sold separately. The gold coin is encapsulated in a clear protective coin holder and packaged in a polished lacquered hardwood presentation case with red felt lining. A Certificate of Authenticity is also included.
While there are no household limits, the United States Mint published a maximum mintage cap of 15,000 across both proof and uncirculated options. The ratio will be determined by customer demand.
Prices are subject to change and according to the United States Mint's pricing policy for its First Spouse Gold Coins, the seven-day average of the London Fix gold price is recalculated every week. Should the average gold price change by more than $49.99, the Mint will typically adjust its prices. Currently, the average resides between $1,700.00 and $1,749.99 an ounce. If the average moves outside this range, the Lucretia Garfield gold coin prices — and the other First Spouse Gold Coins — will typically move up or down by $25.
Related US Mint Products
Other 2011 spouse coins and their release dates include:
Eliza Johnson (released on May 5, 2011)
Julia Grant (released on June 23, 2011)
Lucy Hayes (released on September 1, 2011)
First Spouse Gold Coins are released in the same order as their spouse's coins, the Presidential $1 Coins, but their launch dates are usually few weeks apart. The United States Mint released the Garfield $1 into circulation on November 17, 2011.
A set containing the James Garfield Presidential $1 Coin and the Lucretia Garfield bronze medal is scheduled for release on December 22, although the date is subject to change.
Upcoming 2012 Issues
Dates for the 2012 First Spouse Gold Coins have not been published at the time of this writing, but the coins will honor two spouses and a designated honoree.
Chester A. Arthur's wife died while he was vice president during Garfield's administration, so suffragist Alice Paul was designated to be honored on the President's corresponding First Spouse Gold Coin. She was born while Arthur was in office.
Frances Cleveland and Caroline Scott Harrison were the spouses of Presidents Grover Cleveland and Benjamin Harrison. Caroline's portrait will be featured on the third issue. President Cleveland served two non-consecutive terms. He was the 22nd and the 24th commander in chief. As such, there will be two spousal issues next year with Frances Cleveland featured on the second and fourth coins.