The United States Mint is close to wrapping this year up with the release of its final 2011-dated set, the Garfield Presidential $1 Coin and First Spouse Medal Set. It went on sale Thursday, December 22, at noon Eastern Time for $14.95.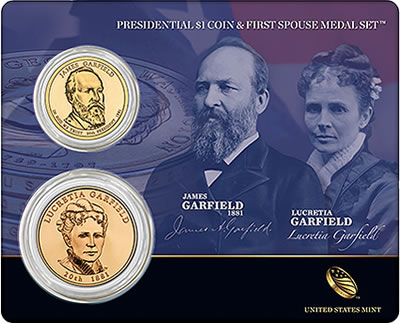 Two collector products are featured in the set, an uncirculated James Garfield $1 coin and a Lucretia Garfield bronze medal which bears the same designs as her First Spouse Gold Coins.
As shown in the image above, the United States Mint mounted the dollar and medal on a durable plastic card containing portraits of the President and First Lady. On the back of the card is the issuance information about the coin and medal.
James Garfield Presidential $1 coins entered circulation on November 17, 2011, the same day the United States Mint and the National Park Service hosted a launch ceremony at the James A. Garfield National Historic Site in Mentor, Ohio. Two weeks later, on December 1, 2011, the Mint released the collector Lucretia Garfield Bronze Medal and her 24-karat gold coins.
Four Presidential $1 Coin and First Spouse Medal Sets were scheduled this year, with the Garfield set becoming the last one. The Johnson $1 and medal set launched on May 10, the Grant set was released on July 7 and the Hayes' set debuted most recently on September 22. All four of the 2010 sets, honoring Fillmore, Pierce, Buchanan and Lincoln, also remain available from the United States Mint. Their price is $11.95. United States Mint sales figures as of December 19 for all these sets are shown below:
United States Mint Sales: Presidential $1 Coin and First Spouse Medal Sets
| | |
| --- | --- |
| Fillmore | 9,830 |
| Pierce | 7,698 |
| Buchanan's Liberty | 7,368 |
| Lincoln | 13,884 |
| Johnson | 5,561 |
| Grant | 5,485 |
| Hayes | 3,924 |
Buyers may purchase the Garfield Presidential $1 Coin and First Spouse Medal Set and prior issues online from the United States Mint website at http://www.usmint.gov/catalog or by phone at 1-800-USA-MINT (872-6468). Hearing and speech-impaired customers with TTY equipment may place their orders by calling 1-888-321-MINT (6468). The Mint charges $4.95 for shipping and handling on all domestic orders.
The last product on the United States Mint schedule for 2011 is the Garfield $1 Coin Cover. It contains a circulation quality strike from the Philadelphia and Denver facilities from the first day of minting. The United States Mint will launch the Garfield Cover on December 29.
As a side note, the recent halt of circulating Presidential $1 coins has renewed some interest in the Presidential $1 series. Nearly every Presidential product offered by the Mint registered higher than typical sales in the bureau's most recent sales report.