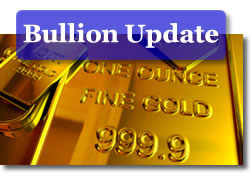 Gold finished nearly $10 lower Monday, giving back a portions of last week's gains, as the U.S. dollar rallied in response to the lingering issues surrounding Europe's debt crisis. Gold "traditionally" moves opposite of the greenback, but it tends to rise under circumstances — such as Europe's dilemma — that appeal to its safe-have nature.
"It's not obvious to us that gold is behaving as a safe-haven store of value at all at the moment, it does appear to be behaving like a commodity that benefits from liquidity and doesn't necessarily benefit from any potential catastrophe in Europe," Reuters quoted Nic Brown, head of commodity strategy at Natixis.
Gold prices declined $9.70, or 0.5 percent, to $1,778.40 an ounce in the December futures contract on the Comex in New York. Prices traded between an intraday low of $1,774.20 and a high of $1,797.60. Last week gold advanced $32.00, or 1.8 percent.
"We believe uncertainty in the ongoing situation in Europe will continue to support the 10-year gold bull market into 2012 and expect the all-time high in real terms will be challenged," Hussein Allidina, the head of commodity research at Morgan Stanley, said in a report cited on Businessweek.
Silver prices for December delivery fell 65.8 cents, or 1.9 percent, to $34.024 an ounce. Silver ranged from $33.95 to $34.92. Last week silver matched gold's 1.8 percent gain.
Platinum prices for January delivery edged down $2.60, or 0.2 percent, to settle at $1,644.10 an ounce. The PGM metal ranged from $1,639.20 to $1,667.30.
Palladium bucked the trend of the other precious metals. Palladium prices for December delivery edged up $1.50, or 0.2 percent, to close at $664.30 an ounce. Palladium moved between $654.80 and $668.40.
London Precious Metals
London precious metals advanced for a second day. London fixings on Friday (PM) from those on Monday (PM) have gold up $3.00 to $1,776.00 an ounce, silver higher by 61.0 cents to $34.38 an ounce, platinum better by $18.00 to $1,646.00 an ounce and palladium gaining $9.00 to $660.00 an ounce
U.S. Mint Bullion Coin Sales
U.S. Mint bullion sales often jump higher toward the start of a new week. That was the case Monday as the Mint's major bullion products advanced after two days on unmoving numbers. As for those numbers, the one-ounce Gold Eagle gained 3,000, matching all of last week's improvements, and the Silver Eagle rose 253,000, or 63,000 more than last week's tally. It should be noted that last week's bullion sales were particularly slow.
The latest available daily, monthly, and year-to-date U.S. Mint bullion coin sales figures follow:
Sales of U.S. Mint American Eagle and Buffalo Bullion Coins
Daily Gains
November Gains
YTD 2011
American Gold Eagle Coin (1 oz.)
3,000
11,500
817,500
American Gold Eagle Coin (1/2 oz.)
0
0
65,000
American Gold Eagle Coin (1/4 oz.)
0
2,000
80,000
American Gold Eagle Coin (1/10 oz.)
0
0
355,000
American Gold Buffalo Coin (1 oz.)
0
1,500
146,500
American Silver Eagle (1 oz.)
253,000
819,000
37,294,500
The United States Mint also updated its 2011-dated five-ounce bullion coin sales. The total from Wednesday to Monday advanced 1,800 to 393,300
Sales of America the Beautiful 5 Oz. Silver Bullion Coins
YTD 2011
Gettysburg National Military Park 5 oz. Silver Coin
126,700
Glacier National Park 5 oz. Silver Coin
126,700
Olympic National Park 5 oz. Silver Coin
83,300
Vicksburg National Military Park 5 oz. Silver Coin
32,200
Chickasaw Park 5 oz. Silver Coin
24,400
TOTAL
393,300
All the sales figures above represent coin totals, not ounces of gold or silver coins sold.