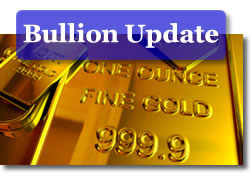 U.S. gold prices retreated modestly Monday, snapping a two-session winning streak. Market-watchers noted riskier bets were in play as U.S. stocks rallied.
"I think most of the price declines are going to be tied to equity strength. Even though gains in equities initially caused flight-to-quality buyers of gold to disappear, there's still a lot of pent up demand on price breaks where gold seems to be an asset that people want to own for the foreseeable future," Reuters quoted Adam Klopfenstein, Senior Market Strategist, at MF Global in Chicago.
December gold prices declined $5.70, or 0.3 percent, to settle at $1,791.60 an ounce on the Comex in New York. Gold traded from $1,781.20 to $1,841.50.
Silver prices for September delivery fell 40.6 cents, or 1.0 percent, to close at $40.546 an ounce. Silver prices moved from $40.425 to $41.800. Jim Wyckoff of Kitco Metals Inc. wrote the following of the metal in the Monday Kitco Roundup:
"December silver futures prices closed near the session low Monday. The silver bulls still have the overall near-term technical advantage. Prices are in a choppy, two-month-old uptrend on the daily bar chart.

Bulls' next upside price objective is producing a close above strong technical resistance at last week's high of $44.295 an ounce. The next downside price breakout objective for the bears is closing prices below solid technical support at last week's low of $38.81.

First resistance is seen at $41.00 and then at $41.50. Next support is seen at Monday's low of $40.49 and then at $40.00. Wyckoff's Market Rating: 6.0."
Platinum futures prices for October delivery trimmed a modest $1.90, or 0.1 percent, to $1,825.00 an ounce. The metal ranged between $1,820.50 and $1,847.50.
Palladium futures prices for December delivery, now the most active contract, declined $2.35, or 0.3 percent, to settle at $755.75 an ounce. Prices hit an intraday low of $753.25 and a high of $762.00.
London Fix precious metals prices were unchanged due to a banking holiday on Monday.
U.S. Mint Bullion Coin Sales
Levels for United States Mint bullion coins remained unchanged from Friday as of 3:49 p.m. ET. August and year-to-date sales figures follow:
Sales of US Mint American Eagle and Buffalo Bullion Coins
Daily
Gains
August
Gains
YTD
2011
Gold Eagle Coin (1 oz.)
0
92,500
661,500
Gold Eagle Coin (1/2 oz.)
0
3,000
61,000
Gold Eagle Coin (1/4 oz.)
0
6,000
70,000
Gold Eagle Coin (1/10 oz.)
0
55,000
320,000
Gold Buffalo Coin (1 oz.)
0
24,500
116,000
Silver Eagles (1 oz.)
0
2.9295M
28.201M
Sales of America the Beautiful 5 Oz. Silver Bullion Coins*
YTD
2011
Gettysburg National Military Park 5 oz.
126,700
Glacier National Park 5 oz.
126,700
Olympic National Park 5 oz.
80,700
Vicksburg National Military Park 5 oz.
27,500
Chickasaw Park 5 oz.
15,200
TOTAL
380,400
*The Gettysburg and Glacier America the Beautiful Five Ounce Silver Bullion Coins are sold out. Unlike other investment-grade products, the United States Mint does not provide daily per coin sales totals for the Olympic, Vicksburg, and Chickasaw America the Beautiful Five Ounce Silver Bullion Coins. Their individual totals are as of August 2. The five ounce combined coin totals above (last line) are as of August 22.
In related United States Mint news, the bureau this week resumed sales of commemorative gold coins and silver sets following suspensions.