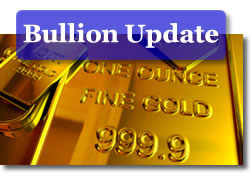 U.S. gold and silver prices dipped modestly on the first trading day of the month. The yellow metal's decline halted a two-session winning streak and comes after gold jumped 12.3 percent in August. Cited factors attributed to losses included a surging U.S. dollar and newly released  Institute for Supply Management (ISM) data showing slow, but better-than-expected growth in the manufacturing sector.
"Gold is off again and I think it's partly the somewhat stronger U.S. dollar and of course the economic data — the claims data, but even more so the ISM index has suggested that we're not in a recession at this point," Reuters quoted Peter Buchanan, senior economist at CIBC World Markets in Toronto.
December gold prices dipped $2.60, or 0.1 percent, to close at $1,829.10 an ounce on the Comex in New York. Prices moved from an intraday low of $1,815.50 to a high of $1,833.60.
"In the near term, there may be more room to the downside for gold," Jim Steel, an analyst with HSBC, said in a note to clients that was recounted on MarketWatch. "In absence of any major event, the steep ($50 an ounce) rally earlier this week may encourage profit-taking. The downside should be limited, however," he added.
Silver prices for December delivery declined 23.6 cents, or 0.6 percent, to $41.532 an ounce, ranging from $41.205 to $41.885. Jim Wyckoff of Kitco Metals Inc. wrote the following of the metal in the Thursday Kitco Roundup:
"December silver futures prices closed nearer the session high Thursday. The silver bulls have the solid overall near-term technical advantage. Prices are in a choppy, two-month-old uptrend on the daily bar chart.

Bulls' next upside price objective is producing a close above strong technical resistance at the August high of $44.295 an ounce. The next downside price breakout objective for the bears is closing prices below solid technical support at last week's low of $38.81.

First resistance is seen at this week's high of $42.095 and then at $42.50. Next support is seen at $41.50 and then at Thursday's low of $41.205. Wyckoff's Market Rating: 6.5."
Platinum futures prices for October delivery lost $3.30, or 0.2 percent, to close at $1,852.90 an ounce. The precious metal traded between $1,842.40 and $1,858.60.
Palladium futures prices for December edged down 5 cents to $790.40 an ounce. Prices ranged from $773.50 to $793.35.
London Precious Metals Prices
London precious metals prices were mixed when comparing the London PM fixings from Thursday over Wednesday. Gold advanced $7.50 to $1,821.00 an ounce, silver prices rose 12.0 cents to $41.47 an ounce, platinum declined $2.00 to $1,843.00 an ounce and palladium fell $6.00 to $777.00 an ounce.
U.S. Mint Bullion Coin Sales
Gains in United States Mint bullion coin were mute or modest after sales of American Eagle gold and silver coins hit their best level in August since January. As of 3:52 ET, the U.S. Mint reported an increase of 42,000 for its Silver Eagle. Other bullion products remained unchanged, as highlighted in the following sales table:
Sales of US Mint American Eagle and Buffalo Bullion Coins
Daily
Gains
September
Gains
YTD
2011
Gold Eagle Coin (1 oz.)
0
0
672,500
Gold Eagle Coin (1/2 oz.)
0
0
61,000
Gold Eagle Coin (1/4 oz.)
0
0
70,000
Gold Eagle Coin (1/10 oz.)
0
0
320,000
Gold Buffalo Coin (1 oz.)
0
0
119,500
Silver Eagle (1 oz.)
42,000
42,000
28.993M
Sales of America the Beautiful 5 Oz. Silver Bullion Coins*
YTD
2011
Gettysburg National Military Park 5 oz.
126,700
Glacier National Park 5 oz.
126,700
Olympic National Park 5 oz.
81,200
Vicksburg National Military Park 5 oz.
28,800
Chickasaw Park 5 oz.
17,500
TOTAL
380,900
*The Gettysburg and Glacier America the Beautiful Five Ounce Silver Bullion Coins are sold out. Unlike other investment-grade products, the United States Mint does not provide daily per coin sales totals for the Olympic, Vicksburg, and Chickasaw America the Beautiful Five Ounce Silver Bullion Coins. The above totals are as of August 30.