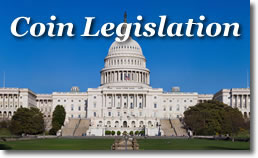 On Thursday, October 13, Rep. Robert Brady, D-PA, introduced legislation that would honor the U.S.S. Cruiser Olympia with commemorative silver coins during calendar year 2016.
Named the U.S.S. Cruiser Olympia Commemorative Coin Act and numbered H.R. 3180, the introduced legislation would authorize the United States Mint to strike up to 500,000 $1 silver coins in collector proof and uncirculated qualities.
"The Cruiser Olympia is an iconic and national historic treasure," describes a statement by Congressman Brady. "It is the world's only ship museum from the early 20th century beginnings of the United States as a world power."
Launched in 1892, the vessel is the world's oldest steel war ship afloat. She is also the only surviving United States naval ship of the Spanish-American war and revived American Steel Navy, according to the Act.
Commemorative Coin Designs and Specifications
H.R. 3180, as is standard in legislation for modern commemorative coins composed of silver, dictates a coin denomination of $1 with diameter of 1.5 inches and a weight of 26.73 grams. Each commemorative would have a composition of 90 percent silver and 10 percent copper.
H.R. 3180 does not outline specific designs for the coins, stating only that they "shall be emblematic of the courage, pride, sacrifice, sense of duty, and history" of the ship.
Required inscriptions include the coin's value, '2016', 'Liberty', 'In God We Trust', 'United States of America', and 'E Pluribus Unum'.
Commemorative designs created by the United States Mint would be reviewed by the Citizens Coinage Advisory Committee and then selected by the Treasury Secretary after consultation with the Friends of the Cruiser Olympia and the Commission of Fine Arts.
The Friends of the Cruiser Olympia is a non-profit whose stated mission is to restore, preserve and educate the public on the Cruiser Olympia in Philadelphia as a national heritage site.
$10 Surcharges and Status of Act
Every commemorative coin produced by the United States Mint includes surcharges, as mandated in the authorizing legislation.
H.R. 3180 calls for collected surcharges to go to the "Friends of the Cruiser Olympia for the purpose of restoring and preserving the U.S.S. Cruiser Olympia."
The U.S.S. Cruiser Olympia Commemorative Coin Act currently has 14 cosponsors and stands before the House Committee on Financial Services. In order for H.R. 3180 to become law, it must pass in the Senate, the House and then get signed by the President.