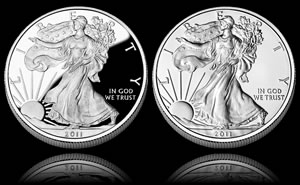 United States Mint numismatic American Silver Eagles, America the Beautiful Five Ounce Silver Uncirculated Coins, and several sets may become cheaper as a result of plummeting silver prices. The white precious metal has dived by more than $10 to below $30 an ounce since a week ago, and as a result the Mint on Monday initiated several product suspensions.
Customers visiting the Mint's online store will see a message of "This product is temporarily unavailable for product repricing" on eight product pages.
[Update: On Wednesday, October 5, the Mint suspensions for its four proof silver sets ended. They returned at the same prices. As of this writing (1:54 p.m. ET October 6), the other products remain suspended.]
[Update 2: On Friday, October 6, the Mint resumed selling the Silver Eagles for $9.50 less and five ounce coins for $50 less.]
| | |
| --- | --- |
| United States Mint Suspended Numismatic Product | Pre-Suspension Price |
| 2011 Uncirculated American Silver Eagles | 60.45 |
| 2011 Proof American Silver Eagles | 68.45 |
| 2011 United States Mint Silver Proof Set | 67.95 |
| 2010 United States Mint Silver Proof Set | 64.95 |
| 2011 United States Mint America the Beautiful Quarters Silver Proof Set | 41.95 |
| 2010 United States Mint America the Beautiful Quarters Silver Proof Set | 39.95 |
| 2011 ATB Gettysburg National Military Park 5 Ounce Silver Uncirculated Coin | 279.95 |
| 2010 ATB Mount Hood National Forest 5 Ounce Silver Uncirculated Coin | 279.95 |
United States Mint commemorative coins for the 2011 Medal of Honor and the 2011 US Army products were not affected, and neither were the 2011 September 11 National Medals. Each of them is presently available.
As mentioned earlier, the instigator for the suspensions is volatility in the precious metals market. The price of silver on the London Fix was $28.16 an ounce on Monday, $32.90 last Friday, and $40.46 a week ago Monday. The metal had been hanging out around $40 an ounce since mid-July.
Product sales suspensions are nothing new for the Mint. Several occurred in the last few months for both gold and silver-related coins and sets. The last time it affected silver products was toward the beginning of September when the white metal surged to $43.50 an ounce. Only the sets were affected, and the suspension lasted ten days. The United States Mint resumed their sales at unchanged prices when precious metals stabilized.
A similar scenario could take place again. It is not known how long the Mint will halt sales this time, but if it changes its product pricing, then according to previous practice, the new prices will be posted in the Federal Register before they are implemented.
As far as numismatic gold products are concerned, no halts or changes have been made as of this writing, although gold has also plummeted. The Mint does have a published pricing policy for its numismatic gold products. Based on it and current prices, it is likely that collector gold coins will see significant price reductions on Wednesday.