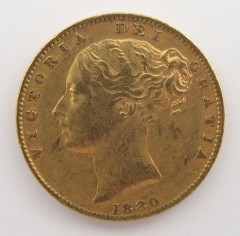 Woolley & Wallis, the Salisbury (U.K.) Fine Art Auctioneers, who are including an increasing number of coins and medals in their sales, are to offer three extremely rare gold Imperial Sovereigns struck at the Sydney Mint in Australia in 1880.
During one of their regular Valuation Days the auctioneers received a consignment of 150 coins dating from 1843 to 1887.
Outwardly they appeared to be a fairly standard group, but on examination three of the 1880 coins display an error by the Mint in spelling the Queen's name VICTORIA — an inverted 'A' has been used in place of the 'V'.
Consultant Daniel Fearon, who is cataloguing the group for Woolley & Wallis had never seen one before despite having co-authored a book on Sovereigns, said "and now, like London busses three come along at once."
Another rare coin in the group was struck at the Melbourne Mint and although dated 1887, the year of Queen Victoria's Golden Jubilee, the coin shows not her 'Jubilee' portrait, but the famous "young head," originally designed 50 years earlier by the engraver William Wyon.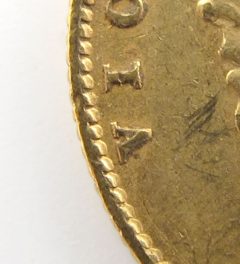 The coins were believed to have been bought in the 1960's by the vendor's father "as an investment." The discovery of the three rarities, each valued at around £1500, will guarantee that the investment shows a handsome return.
The coins will be included in the Silver sale beginning 10:00 am on October 26, 2011 at the company's Castle Street salerooms, in Salisbury, Wiltshire, UK.
For more information, visit www.woolleyandwallis.co.uk or call +44 1722 424500.
About Woolley & Wallis
Woolley and Wallis, established in 1884, is one of the leading regional auctioneers, holding around thirty specialist sales a year spread between nine departments which are headed up by leading experts in their field. Described by the Antiques Trade Gazette as "arguably the most exciting provincial saleroom in the country," Woolley and Wallis has lived up to that title in recent years with a string of record-breaking sales and notable prices.