Dallas, TX. One of only three known gold Wilson dollars struck in 1920 is being offered at auction in Rosemont, Illinois on April 16-18. The "so-called" Wilson Dollar was struck to commemorate the July 16, 1920 opening of the Manila Mint, which remains the only U.S. branch mint to ever operate outside of the continental United States.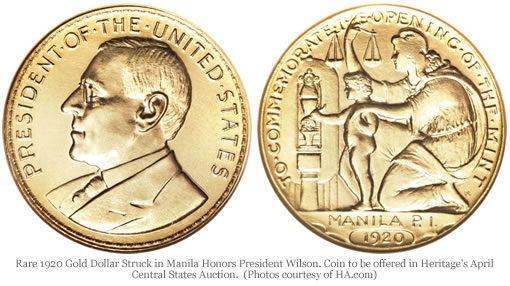 It is included in the catalog for the Official Auction of the Central States Numismatic Society convention, being held in Rosemont, Illinois on April 17-19; the catalog is now posted by Heritage Auction Galleries on their HA.com/Currency website.
"The Philippines became a U.S. territory in 1899," noted Heritage specialist Harvey Gamer, "following the 1898 Spanish-American War. Between 1903 and 1919, the coins of the Philippines were struck at the Philadelphia and San Francisco Mints. Filipino coins were struck at the Manila Mint between 1920 and 1942, when the Islands were occupied by the Japanese during World War II. The Philippines became an independent republic in 1946."

"The Wilson Dollar," continued Gamer, "was designed by George Morgan, who was the Mint's Chief Engraver in 1920, and who was also responsible for one of America's most beloved coins, the silver Morgan Dollar. The obverse (front) of the coin depicts a vibrant left-facing bust of President Wilson, who at the time was devastated by a stroke. The reverse (back) design features Juno Moneta kneeling with a youth, with elements borrowed from the reverse of the 1915-S Panama-Pacific commemorative half dollar. Befitting its special presentation status, this gold piece was struck at least three times – the evidence of the additional strikes is faintly visible on the date and other legends. The item has been certified by Numismatic Guaranty Corp. as MS62."

Concluded Gamer: "According to the standard reference on such numismatic items, written by Hibler-Kappen, 'only five gold pieces [were] reportedly struck' and have been given an HK-1031 reference number. Silver (HK-449) and copper (HK-450) specimens of the Wilson dollar are also scarce. One of the five gold pieces was presented to President Woodrow Wilson, one to the U.S. Secretary of War, and three were retained in the Philippines (and lost during World War II). Heritage offered a different gold Wilson dollar in our February 2008 Medals and Tokens Signature auction, as lot 81185, but that piece had a mount removed from its edge. This example is unimpaired, and may be the only such pristine remaining gold example."
To discuss consigning coins or currency to an upcoming auction, please call the Heritage Consignor Hotlines at 800-872-6467 ext. 1000 (Coins); or ext. 1001 (Currency).
For more information about Heritage's auctions, and a complete record of prices realized, along with full-color, enlargeable photos of each lot, please visit www.HA.com.
To reserve your copy of any Heritage auction catalog, please contact Client Services at 1-800-872-6467, ext. 1150, or visit www.HA.com/Catalog to order by email.
# # #
About Heritage Auction Galleries
Heritage Auction Galleries is the world's largest collectibles auctioneer. Our 353,061 members are a testament to our reputation for professional business practices and unprecedented knowledge in the field of collectibles. Our mission is to provide the Internet's most indispensable trading platform and source of information for serious collectors, investors and dealers.