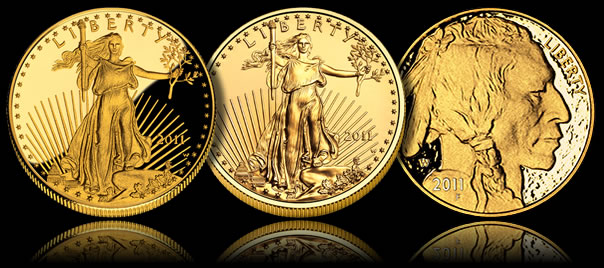 Price hikes for United States Mint collector gold coins were forestalled Wednesday after gold prices plummeted by more than $100 in a single day and moved below $1,760 an ounce.
The United States Mint returned to selling 12 of 16 gold coins at 12:00 noon ET. And, thanks to gold's plunge, the collector coins cost the same as when they were preemptively suspended Monday after the yellow metal rocketed toward $1,900 an ounce.
The Mint normally adjusts prices on its collector gold coins on Wednesday's if the weekly average of gold swings into a new predefined pricing range. Coin prices were raised last Wednesday when the average moved into the higher range setting of between $1,750.00 and $1,799.99 an ounce.
The Mint's gold coins were poised to shoot higher yet again this week as the London gold Fix average from Thursday AM to Wednesday AM was $1,855.14 an ounce, or enough to drive prices higher by two levels (+$100 for its most popular one-ounce proof American Gold Eagle). However, the United States Mint also uses the later Wednesday PM fixing as a directional component in its pricing system. Since that plunged by such a large amount and directly within last Wednesday's setting range, it overruled the expected price increases.
The unchanged prices, which are still at an all-time high for the coins, are shown in the table below:
United States Mint Prices for its Collector Gold Coins
| | |
| --- | --- |
| US Mint Product | Price |
| Uncirculated First Spouse Coins | $1,041.00 |
| Proof First Spouse Coins | $1,054.00 |
| American Gold Buffalo Coin | $2,060.00 |
| 1 oz Uncirculated Gold Eagle Coin | $2,028.00 |
| 1 oz Proof Gold Eagle Coin | $2,035.00 |
| 1/2 oz Proof Gold Eagle Coin | $1,031.00 |
| 1/4 oz Proof Gold Eagle Coin | $528.00 |
| 1/10 oz Proof Gold Eagle Coin | $225.50 |
| Proof Gold Eagle 4-Coin Set | $3,770.50 |
The available 24-karat First Spouse Gold Coins include the proof and uncirculated Julia Grant, the proof and uncirculated Eliza Johnson and the proof Mary Todd Lincoln.
The listed products above may be purchased directly from the United States Mint website at http://catalog.usmint.gov/ or via its toll free number 1-800-USA-MINT (872-6468).
Unavailable US Mint Products
Still unavailable are the Mint's four 2011 commemorative gold coins, including the two Medal of Honor $5 gold coins and the two U.S. Army $5 gold coins. Also unavailable are last year's 2010 Silver Proof Set and the 2010 America the Beautiful Quarters Silver Proof Set. The products were frozen due to surging precious metals prices. The commemorative coins were suspended on August 12 and await a new pricing system before they return to availability. Sales of the silver sets were halted on August 19 when silver jumped over $42 an ounce. Since silver is currently falling toward $39 an ounce, it is possible that their sales will resume shortly.