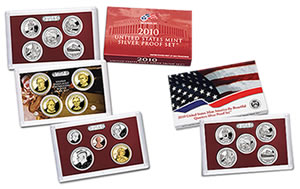 The United States Mint on Monday, September 12, returned to selling two silver sets which were suspended on September 2 due to volatile and soaring precious metals. The sets came back at their same pre-suspension prices.
The Mint halted sales of the 2010 United States Mint Silver Proof Set ($64.95) and the 2010 United States Mint America the Beautiful Quarters Silver Proof Set ($39.95) after silver reached as high as $43.50 an ounce. Since, the white metal has taken a pounding, dropping as low as $39.75 an ounce on Monday.
Each of the Mint's silver sets has faced several suspensions this year due to surging precious metals. Prices for the 2010-dated issues were actually raised in March to prevent their selling at levels close to their melt values. The 2010 Silver Proof Set, which contains 1.34 ounces of silver, went up from $56.95 to $64.95. The 2010 Quarters Silver Proof Set, which has 0.904 ounces of the white metal, had its price increased from $32.95 to $39.95.
Based on how precious metals have moved this year, it would seem likely that the sets could again get suspended down the road. As of this writing, silver prices have already returned to $41 an ounce. At that level, the melt values the 2010-2011 Silver Proof Sets and 2010-2011 America the Beautiful Quarter Silver Sets are $54.87 and $37.07, respectively.
The United States Mint has a published pricing policy in place for its gold and platinum numismatic products, as it will increase or decrease their prices once a week if the weekly average of precious metals shifts significantly higher or lower. More than a dozen gold products were halted on the same day as the silver sets, but they returned for sale nearly one week ago (at higher prices).
The Mint does not have a published pricing policy for its silver offerings. Before these product prices change, their sales are typically suspended until a review takes place and a notice is given on the Federal Register, which is an official daily publication for rules, proposed rules, and notices of Federal agencies and organizations. In this instance, the white metal dropped enough where adjustments were not implemented.