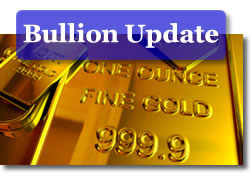 Gold prices declined in three of four days during the abbreviated trading week, extending a string of weekly losses to two. Gold this week fell $39.40, or 2.3 percent, after having given up $63, or 3.5 percent, last week.
In closing Friday, gold prices shed $10.20, or 0.6 percent, to $1,685.70 an ounce in the December futures contract on the Comex in New York. The yellow metal traded between $1,672.60 and $1,702.70. Strength in the U.S. dollar was a predominating factor in the bearish attitude toward bullion for much of the week.
"[Gold] prices could still gap in either direction depending upon events in the euro zone and the fortunes of the U.S. dollar, which remains the safe haven of choice amid a flight to safety, quality and liquidity," said Credit Agricole analyst Robin Bhar in a note, according to MarketWatch.

"Gold is under-performing as investors are more concerned about return of capital rather than the return on capital, a situation last seen during the great financial crisis of 2008-2009."
Gold's direction stumped many analysts as sentiment for this week had leaned bullish last Friday. Most participants in the newest gold survey conducted by Kitco News are forecasting higher prices next week.
"Gold prices may rebound next week as investors with longer-term outlooks could see value in the yellow metal at these levels, according to some participants in the weekly Kitco News Gold Survey.

In the Kitco News Gold Survey, out of 32 participants, 18 responded this week. Of those 18 participants, 10 see prices up, while five see prices down, and three see prices sideways or unchanged…

Many who see higher prices next week said the longer-term fundamentals remain in gold's favor and the recent weaker prices have offered those types of buyers a more attractive entry point. 'Despite the difficulties this week, long term…"
The previous survey had participants looking for higher gold prices by a margin of 13 to 10. It was a second straight weekly miss by the majority.
Gold prices have advanced $264.300, or 18.6 percent, in 2011.
Weekly Losses in other Precious Metals Futures
Palladium led the percentage declines among the major metals this week with a loss of 5.8 percent. Silver was right behind at 4.3 percent followed by platinum at 3.5 percent.
Silver prices for December delivery lost 87.0 cents, or 2.7 percent, to finish the week at $31.014 an ounce. Prices touched an intraday low of $30.935 and reached as high as $32.220. In dollar terms, silver plunged $1.40 on the week, erasing most of its gains this year which now tally to a meager 7.7 cents.
Platinum prices for January delivery declined $25.20, or 1.6 percent, to $1,533.10 an ounce, ranging between $1,526.10 and $1,565.80. Platinum in 2011 has fallen $245.10, or 13.8 percent.
Palladium prices for December delivery closed down $19.75, or 3.3 percent, to $570.10 an ounce, trading from $566.65 to $590.00. Palladium this year has stumbled $233.40, or 29.0 percent.
London Precious Metals
London metals also ended lower. When comparing London fixings on Friday (PM) from those on Thursday (PM):
Gold prices dipped $4.00 to $1,688.50 an ounce,
Silver declined 70.0 cents to $31.24 an ounce,
Platinum fell $14.00 to $1,529.00 an ounce, and
Palladium lost $11.00 to $572.00 an ounce
Like palladium futures in New York, London palladium was the biggest weekly percentage loser. It dropped 5.9 percent. Platinum came down 4.1 percent. Silver and gold followed with respective weekly losses of 3.1 percent and 1.8 percent.
U.S. Mint Bullion Coin Weekly Sales
Buying activity on Friday increased for the three major U.S. Mint bullion coins. Each of the Mint's one-ounce coins rose. But on a weekly scale, only the one-ounce American Gold Eagle put up solid numbers at 17,500, more than double the amount it had climbed through the first 18 days in November.
The Mint's most popular bullion coin, the American Silver Eagle, continues to limp forward. It rose 140,000 on the week which was a just tad more than half of the previous weekly total. More telling, on a monthly basis the coin has only gained 984,000. Sales would have to rise by more than 1.78 million in the remaining days of November for the month to shake away as the slowest of the year.
The newest daily, weekly, monthly, and year-to-date U.S. Mint bullion coin sales follow:
Sales of U.S. Mint American Eagle and Buffalo Bullion Coins
Daily Gains
Prior Weekly
Weekly Gains
November Gains
YTD 2011
American Gold Eagle Coin (1 oz.)
12,000
7,500
17,500
33,500
839,500
American Gold Eagle Coin (1/2 oz.)
0
0
0
0
65,000
American Gold Eagle Coin (1/4 oz.)
0
0
2,000
4,000
82,000
American Gold Eagle Coin (1/10 oz.)
0
10,000
5,000
15,000
370,000
American Gold Buffalo Coin (1 oz.)
2,000
2,500
4,000
8,000
153,000
American Silver Eagle (1 oz.)
100,000
278,000
140,000
984,000
37,459,500
Sales of America the Beautiful 5 Oz. Silver Bullion Coins*
Weekly Gains
YTD 2011
Gettysburg National Military Park 5 oz. Silver Coin
n/a – sold out
126,700
Glacier National Park 5 oz. Silver Coin
n/a – sold out
126,700
Olympic National Park 5 oz. Silver Coin
0
83,300
Vicksburg National Military Park 5 oz. Silver Coin
0
32,200
Chickasaw Park 5 oz. Silver Coin
0
24,400
TOTAL
0
393,300
*The United States Mint does not provide daily sales figures for its 5-ounce silver coins. The sales are current as of Friday, November 18, 2011.