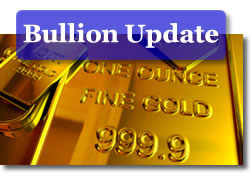 U.S. gold futures closed sharply lower Thursday, breaking away from a three-session winning streak and falling from an all-time record high of over $1,817 an ounce.
"The strength in equities, coupled with the increase in margins, is pushing gold down," Matthew Zeman, a strategist at Kingsview Financial in Chicago, said in a telephone interview that was recounted on Bloomberg. "Investors are waiting for a deeper correction before they start buying again."
December gold prices declined $32.80, or 1.8 percent, to finish at $1,751.50 an ounce on the Comex in New York. The drop was the biggest since June 23. Gold earlier in the day traded at a record high of $1,817.60 an ounce. Prior to losses Thursday, the yellow metal had booked a $132.50 increase on the week.
"Once again, gold's decline is indicative of a sell-off of safe haven assets, more of a risk on type trade today," David Meger, director of metals trading of commodity broker Vision Financial Markets, Chicago, said according to Reuters.

"The European sovereign debt issue is going to remain an ongoing issue, and the economy moving forward is concerning. All of the positive factors that have been supporting gold for the last several months are not dissipating. Inevitably, we view this as a pullback within an uptrend."
Silver prices for September delivery fell 65.8 cents, or 1.7 percent to settle at $38.669 an ounce. Intraday silver prices moved between $37.935 and $39.860. Jim Wyckoff of Kitco Metals Inc. wrote the following of silver in the Thursday Kitco Metals Roundup:
"December silver futures closed nearer the session low. The bulls are fading amid choppy trading. Some near-term chart damage has been inflicted in silver recently. However, the silver bulls do still have the slight overall technical advantage.

Bulls' next upside price objective is producing a close above solid technical resistance at this week's high of $40.405 an ounce. The next downside price breakout objective for the bears is closing prices below solid technical support at $37.00.

First resistance is seen at $39.00 and then at $39.50. Next support is seen at today's low of $37.995 and then at $37.50. Wyckoff's Market Rating: 5.5."
Platinum prices for October delivery rose $20.70, or 1.2 percent, to close at $1,792.40 an ounce. Platinum ranged from $1,765.10 to $1,793.00.
Palladium prices for September delivery advanced $7.00, or 1.0 percent, to settle at $733.80 an ounce. Prices traded between $726.05 and $740.00.
London Precious Metals
London precious metals prices were mixed. When comparing London PM fixing prices from Thursday over Wednesday, gold declined $12.00 to $1,760.00 an ounce, silver prices advanced 87.0 cents to $39.180 an ounce, platinum gained $26.00 at $1,780.00 an ounce and palladium declined $9.00 at $732.00 an ounce.
United States Mint Bullion Coin Sales
Sales of American Eagle bullion coins advanced for all but two issues. The bullion Silver Eagle scored the highest in unit sales with 215,000 purchased since Wednesday. In 22-karat gold bullion, the smallest tenth-ounce Gold Eagle gained the most with 10,000 while the biggest one-ounce coin rose 6,000. After one day of rest, the 24-karat American Gold Buffalo added 500. The latest United States Mint bullion product sales figures follow:
US Mint American Eagle and Buffalo Bullion Coin Sales
Daily
Gains
August
Gains
YTD
2011
Gold Eagle Coin (1 oz.)
6,000
50,000
619,000
Gold Eagle Coin (1/2 oz.)
0
2,000
60,000
Gold Eagle Coin (1/4 oz.)
0
4,000
68,000
Gold Eagle Coin (1/10 oz.)
10,000
35,000
300,000
Gold Buffalo Coin (1 oz.)
500
10,500
102,000
Silver Eagle Coin (1 oz.)
215,000
1.319M
26.5905M
America the Beautiful 5 Oz. Silver Bullion Coin Sales*
YTD
2011
Gettysburg National Military Park 5 oz.
126,700
Glacier National Park 5 oz.
126,700
Olympic National Park 5 oz.
80,700
Vicksburg National Military Park 5 oz.
27,500
Chickasaw Park 5 oz.
15,200
TOTAL
378,600
*The Gettysburg and Glacier America the Beautiful Five Ounce Silver Bullion Coins are sold out. Unlike other investment-grade products, the United States Mint does not provide daily per coin sales totals for the Olympic, Vicksburg, and Chickasaw America the Beautiful Five Ounce Silver Bullion Coins. The individual five ounce sales figures above are as of Tuesday, August 2. The combined total for all the coins has an as of date of Monday, August 8.