The collector Yellowstone National Park 5 Oz Silver Uncirculated Coin will be available at 12:00 noon ET on Tuesday, May 17, 2011.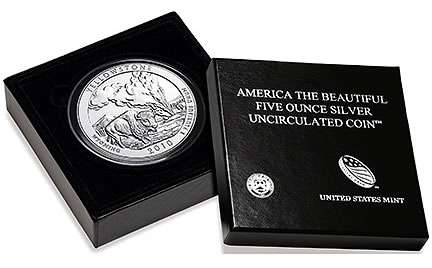 The United States Mint announced the official release date this week, along with its expected $279.95 price and limited 27,000 mintage.
The three-inch diameter, .999 fine silver piece is the second issue in the United States Mint America the Beautiful Five Ounce Silver Uncirculated Coin series which, along with companion 5-ounce bullion issues and America the Beautiful Quarters®, honors national parks and sites throughout the U.S. and its territories.
The Yellowstone uncirculated coin for Wyoming bears the same designs as the already issued Yellowstone quarter and five-ounce Yellowstone bullion coin. The obverse features the familiar John Flanagan portrait of George Washington. The reverse, by Don Everhart, shows Old Faithful with a mature bull bison in the foreground. Reverse and obverse inscriptions are the same. While the quarter has a reeded edge, however, both the bullion strike and five-ounce uncirculated coin has an incused edge with lettering of ".999 FINE SILVER 5.0 OUNCE"
Unlike the five-ounce bullion version which is intended for investors, the uncirculated coin has a special finish which is produced for collectors. It also features the Philadelphia "P" mint mark, although both strikes are actually minted there. Another variance between the two five-ounce coins is how they are sold. The United States Mint offers its collector coins directly to the public. All Mint bullion products are sold through its network of Authorized Purchasers who then resale into the secondary market.
There are five 2010 America the Beautiful Five Ounce Silver Uncirculated Coins in total. Each was actually produced last year but held for a 2011 launch. The inaugural uncirculated five-ounce issue honored Hot Springs National Park in Arkansas. There was a frenzy to purchase the coin at its noon release on April 28 as many buyers anticipated a quick sell out. Over 6,000 web orders were taken within the first hour, and the Mint's online store soon went down. More than 19,000 orders were placed by 9:00 PM ET. While a sellout is still expected, it has not happened as of this writing. United States Mint figures indicate that 26,866 of the 27,000 have sold as of Sunday, May 8.
Later 2010 uncirculated coins will celebrate Yosemite National Park in California, Grand Canyon National Park in Arizona, and Mount Hood National Forest in Oregon. The 2011 issues are expected out this year as well.
Order Details for Yellowstone Uncirculated Coin
When available, the Yellowstone National Park 5 Oz Silver Uncirculated Coin may be purchased directly from the United States Mint website at http://www.usmint.gov or by calling its toll free number 1-800-USA-MINT (872-6468). There is a limit of one per household. A shipping and handling fee of $4.95 will be charged for all domestic orders.
The Yellowstone uncirculated coin comes enclosed in a capsule to protect its finish. The capsule is placed within a protective outer box and accompanied by a Certificate of Authenticity.