At 12 noon Eastern Time today, May 10, 2011, the Johnson Presidential $1 Coin & First Spouse Medal Set was made available from the United States Mint for $14.95.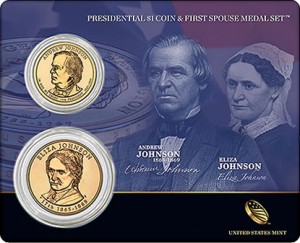 This collector set contains an uncirculated Andrew Johnson Presidential $1 Coin and a bronze medal bearing the likeness of Eliza Johnson, similar to the First Spouse Gold Coin that honors her. The uncirculated finish on the dollar coin means it is not a business strike, but instead, it went through a special minting process for collectors.
A durable plastic card holds the Johnson coin and medal. The set's package is enhanced with representations of the President's and First Lady's portraits on the front and issuance information on the back.
Circulation quality Andrew Johnson $1 Coins ceremoniously hit the public more than two months ago on February 17, 2011. More recently, the Eliza Johnson Bronze Medal entered the collector market on May 5, 2011.
The United States Mint accepts orders via their website at http://www.usmint.gov/catalog and by phone at 1-800-USA-MINT (872-6468).  Hearing and speech-impaired customers with TTY equipment may place their orders by calling 1-888-321-MINT (6468). A shipping and handling fee of $4.95 will be added to all domestic orders.
This is the first 2011 Presidential $1 Coin & First Spouse Medal Set to emerge this year. The United States Mint has already released 18 others since the series began in 2007, yet Andrew Johnson was the 17th president.
In 2009, two separate Presidential $1 Coin & First Spouse Medal Sets were issued for the 10th President, John Tyler. His first wife died while he was in office, and then he remarried before he completed his service. One of the sets featured Letitia Tyler and the other included Julia Tyler.
The next 2011 Presidential $1 Coin & First Spouse Medal Set will honor Ulysses S. Grant and wife Julia. It is scheduled to debut on July 7, 2011.