United States Mint silver products featuring four proof sets reemerged Thursday at their same prices after several weeks of absence.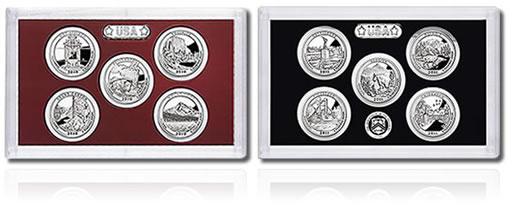 The US Mint suspended sales of the 2010 and 2011 Silver Proof Sets along with the 2010 and 2011 America the Beautiful Quarters Silver Proof Sets in April after silver prices shot through the roof, pushing the sets' intrinsic melt values significantly closer to their offering prices.
The 2010-dated silver proof sets have undergone two separate suspensions this year. The first in early March when they returned at higher prices and then again on April 8 when silver topped $40. The 2011-dated silver products were added into the suspension mix when they were pulled on April 18 after the white metal reached over $43 an ounce.
Silver's soaring gains last month had kept the silver products in a holding pattern until the white metal either stabilized or plummeted. The later turned out to be the case. The US Mint does have a pricing methodology for adjusting collector gold products based on weekly moves in gold, but it does not have one for its collector silver products. The precious metal's collapse last week offered breathing room for the Mint. In a few days' time the metal plunged from a high of near $50 an ounce toward $36 by Thursday, giving reason enough to resume sales of all four silver products.
The 2010 Silver Proof Set was released August 26, 2010 for $56.95 and was increased to $64.95 following its first suspension. The 2010 America the Beautiful Quarters Silver Proof Set became available on May 27, 2010 for $32.95 and went up to $39.95 after the first suspension. The 2011 Silver Proof Set was released at $67.95, its current price. Likewise, the 2011 America the Beautiful Quarters Silver Proof Set is available at its same issue price of $41.95.
The four silver products may be purchased at the United States Mint website http://catalog.usmint.gov/.
Will the sets see another suspension? It is certainly possible. On Friday the London silver Fix was at $34.20 an ounce. By Monday the price had rebounded to $38.00 an ounce, or about $2 less than when the 2010-dated sets were last suspended.