One of the most valuable tools available to even the most casual of coin collectors is due to be released in an updated issue — the 2012 Redbook of U.S. Coins. Known technically as the Official Red Book® — A Guide Book of United States Coins, the release offers coin pricing and information that would take untold hours of research to find anywhere else.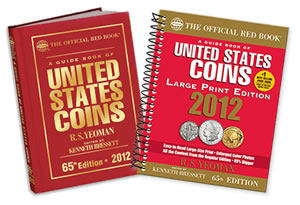 The 2012 Redbook will be available beginning April 5, 2011, but buyers can pre-order now. Whitman Publishing (http://www.whitmanbooks.com/), who issues the book, is currently offering free shipping on entire orders which include at least one of the four different 2012 Redbook versions it sells. Other coin collecting supply stores are beginning to offer them as well. Wizard Coin Supply currently has each version available for pre-order at half price.
The 2012 Redbook marks the 65th year for the definitive resource on United States coins. The first edition was dated 1947 and appeared for the first time in November of the previous year. Since then, novice and experienced coin collectors alike have used the book to serve as a source of reliable knowledge in which to base not only values of coins on, but also to supply a history for them.
Whitman adds this:
"This best-selling 'one-volume library' helps you make smart buying decisions as you build your collection. Millions of readers rely on it for full-color photographs, detailed technical data, and up-to-date mintages."

"You'll benefit from its practical essays on grading, investing, auctions, and other hobby subjects — and of course, its pricing for 6,000-plus coins, in up to 9 grades each, gathered from more than 100 of the nation's leading coin dealers!"
Anyone who has dealt with coins knows that their pricing is nothing if not fluid, which could lead many to believe that an annual book will be out-of-date before it reaches the shelves. While this is true in some respects, it does not negate the importance of having a resource like the Redbook at hand. The prices published in the book are based on actual prices paid for coins in the grades shown over the few months previous to the book's release, giving at least an indicator of their realistic value at the current time.
The 2012 Redbook is offered in four different versions: hard-cover ($16.95); spiral-bound ($14.95); spiral-bound hard-cover ($19.95); and large print spiral-bound ($29.95).