The United States Mint has rescheduled the launch ceremony for the 2011 Native American Dollar. The release will take place on March 25, 2011.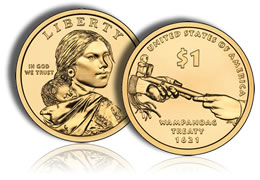 The $1 coin was first scheduled to launch on January 12, 2011,
at the Plimoth Plantation Henry Hornblower II Visitor Center in Plymouth, Massachusetts. Winter snowstorms forced its postponement.
The ceremony will remain at the Plimoth Plantation, a living museum that focuses on life in Plymouth Colony during the 17th century. The event will kick-off at 10:30 a.m. Eastern Time (ET). The public is invited to attend. Children in attendance will receive one new 2011 Native American Dollar while adults can exchange cash for rolls of the coins.
The US Mint product schedule indicates it will offer 25-coin rolls of the new dollars through its website beginning on March 28. The price for each roll will be $39.95, with the buyers choice of Philadelphia or Denver minted coins.
Beginning in 2009, the US Mint has been releasing a new Native American Dollar every year that features a different reverse design. Each celebrates contributions made by Indian tribes and individual Native Americans to the history and development of the United States. 
The theme of the 2011 Native American Dollar design is Diplomacy — Treaties with Tribal Nations, officially designated as Supreme Sachem Ousamequin, Massasoit of the Great Wampanoag Nation Creates Alliance with Settlers at Plymouth Bay (1621).
The 2011 $1 reverse shows the hands of the Supreme Sachem Ousamequin Massasoit and Governor John Carver symbolically offering the ceremonial peace pipe after the initiation of the first formal written peace alliance between the Wampanoag tribe and the European settlers. Inscriptions on the coin include UNITED STATES OF AMERICA, $1, and WAMPANOAG TREATY 1621. It was designed by Richard Masters and sculpted by Joseph Menna.
The obverse design depicts Sacagawea as first produced in 2000. Inscriptions include LIBERTY and IN GOD WE TRUST. It was designed by Glenda Goodacre.