The United States Mint on Monday placed its 2011 Native American Dollar Rolls on sale for a price of $39.95, plus shipping and handling.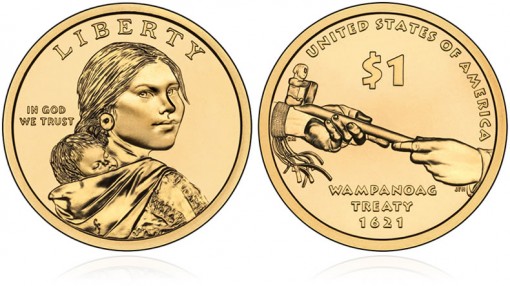 Available are rolls filled with either Philadelphia or Denver minted coins. Each 25-coin roll is wrapped with specially designed paper with the year and mint of origin printed in black font.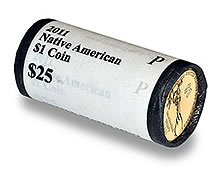 The Native American Dollar has featured annually changing reverse designs since 2009. The US Mint designated theme for the 2011 issue is:
"Supreme Sachem Ousamequin, Massasoit of the Great Wampanoag Nation Creates Alliance with Settlers at Plymouth Bay (1621)."
The 2011 design, by United States Mint Artistic Infusion Program Master Designer Richard Masters, portrays the ceremonial passing of a peace pipe following the 1621 treaty between the Wampanoag tribe and European settlers at Plymouth Bay. The hands holding the peace pipe represent Supreme Sachem Ousamequin Massasoit of the Great Wampanoag Nation and Governor John Carver of the Plymouth Colony. The design was sculpted by United States Mint Sculptor-Engraver Joseph Menna.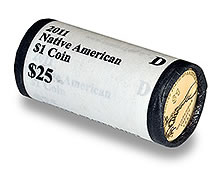 The United States Mint officially introduced the new $1 coins on Friday in a ceremony at the Plimoth Plantation in Massachusetts.
"The 2011 Native American $1 Coin celebrates the Wampanoag Treaty of 1621 that later led the English colonists and Massasoit and his men to join in a first harvest feast," stated B. B. Craig, United States Mint Associate Director of Sales and Marketing.
Prior year reverse themes were: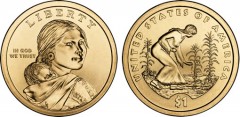 The dollars obverse remains unchanged each year. It features and an image of Sacagawea that was first shown on $1 coins in 2000. The design was created by Glenda Goodacre and includes inscriptions of LIBERTY and IN GOD WE TRUST.
Similar to the Presidential $1 coins, each Native American Dollar includes an edge-lettered inscription of E PLURIBUS UNUM, the year the coin was minted and a mint mark.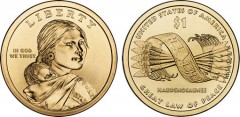 Order Details
The 2011 Native American Dollar Rolls may be purchased from the US Mint website at:
United States Mint $1 Product page
Each roll may also be ordered using the Mint's toll-free number, 1-800-USA-MINT (872-6468). Hearing and speech-impaired customers may order by calling 1-888-321-MINT (6468).
The new dollars are also available through the US Mint Direct Ship Program. Boxes of ten 25-coin rolls of the Native American coins are sold at face value ($250), with no premiums added or shipping costs. However, these rolls are not wrapped in specially designed paper collectors prefer, since the purpose of the program is to distribute $1 coins into circulation for ever day use.