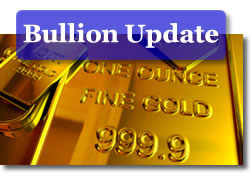 U.S. bullion prices, commodities and stocks soared Thursday, a day after the Federal Reserve announced a monetary stimulus plan to boost the economy. The U.S. dollar was driven lower in the wake of the news, throwing gold prices 3.4 percent higher, above $1,380 an ounce, and to a close that marked a new all-time high. Silver's rally was even more impressive, surging 6.6 percent and to a fresh 30-year high of above $26 an ounce.
In other markets, oil jumped above $86 a barrel and to its own six-month high while U.S. stocks rallied to close at two-year highs with the major indexes up between 1.4 and 2 percent.
New York precious metals closing prices follow:
Gold prices for December delivery advanced $45.50 to settle at $1,383.10 an ounce on the Comex in New York. It ranged from $1,346.70 to $1,384.80.

December silver soared $1.607 to close at $26.043 an ounce. Prices ranged between $24.750 and $26.060.

Platinum prices for January delivery surged $58.70, or 3.5 percent, to $1,755.90 an ounce. It ranged from $1,705.10 to $1,758.70.

December palladium jumped $32.05, or 5.0 percent, to finish at $674.75 an ounce. Prices ranged between $644.30 and $678.00.
In notable bullion quotes of the day:
"Investors are starting to think about the long-term inflationary threat," Adam Klopfenstein, a senior market strategist at Lind-Waldock in Chicago, was quoted on Bloomberg. "The $600 billion in bond purchases [by the Fed] looks very friendly for buying anything tangible like gold. Commodities are going to look undervalued."

"Inflationary pressures came to the forefront in the wake of Wednesday's fresh quantitative easing moves by the Federal Reserve," noted Jim Wyckoff of Kitco News. "The U.S. dollar index came under more strong selling pressure Thursday, which also brought back keen investor buying interest in gold and silver."
In PM London bullion prices, the benchmark gold Fix was $1,381.00 an ounce, rising $36.00 from the price on Wednesday. The silver Fix was $25.380 an ounce for a gain of 38 cents. The platinum fixing came in at $1,740.00 an ounce, adding $31.00. Palladium was $668.00 an ounce, up $30.
In bullion coin news, United States Mint American Silver Eagles were the sole bullion coins to move since Tuesday. The .999 fine silver coins advanced 150,000 Thursday and are nearing 29 million for the year. Thursday's pick up made 2010 the best ever year for the coins since their debut in 1986. The following are the latest U.S. Mint coin sales figures:
U.S. Mint 2010 Gold & Silver Coin Sales
November
2010 Totals
American Eagle Gold Coin (1 oz)
7,500
981,500
American Eagle Gold Coin (1/2 oz)
0
39,000
American Eagle Gold Coin (1/4 oz)
0
56,000
American Eagle Gold Coin (1/10 oz)
0
380,000
American Buffalo Gold Coin (1 oz)
Sold Out
209,000
American Eagle Silver (1 oz)
255,000
28,885,500
Oil and gasoline prices
New York oil futures prices surged to their highest level since May 3. December crude rose $1.80, or 2.1 percent, to $86.49 a barrel.
"The markets have taken off like bottle rockets," Richard Soultanian, co-president of NUS Consulting Group, a Park Ridge, New Jersey-based energy procurement adviser, said and was quoted on Bloomberg. "The Fed action is going to create commodity inflation. A weak dollar is providing impetus to all the commodity trades."
The national average for regular unleaded gasoline climbed seven-tenths of a cent to $2.806 a gallon, according to AAA fuel data. The price is two-tenths of a cent lower than last week, 7.4 cents higher than a month back, and 12.2 cents more than the price from a year ago.
U.S. Stocks
U.S. stocks surged Thursday, hitting multi-year highs.
"QE2 is hitting the market big time," Peter Tuz, president at Chase Investment Counsel, was quoted on CNNMoney.com. "The rally really took off overnight with global markets and commodities, then spread to the U.S., and now we're seeing it just take off."
The Dow Jones industrial average rose 219.71 points, or 1.96 percent, to 11,434.84. The S&P 500 Index added 23.09 points, or 1.93 percent, to 1,221.05. The Nasdaq Composite Index advanced 37.07 points, or 1.46 percent, to 2,577.34.