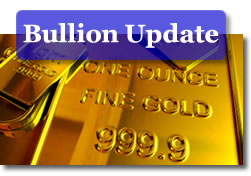 U.S. gold climbed toward $1,300 an ounce on Wednesday as prices soared after the Fed's statement noted inflation was below target levels and signaled it was willing to ease its monetary policy to support the recovery.
Gold rose 1.4 percent for the day, and other precious metals followed. Silver jumped 2.0 percent, platinum climbed 1.3 percent, and palladium surged 2.2 percent.
U.S. stocks moved opposite of metals, with the major indexes falling between 0.19 and 0.64 percent. The Dow notably ended a five-day winning streak.
New York precious metals closing prices follow:
Gold for December delivery soared $17.80 to close at $1,292.10 an ounce on the Comex in New York. It ranged from $1,287.50 to $1,298.00.

December silver surged 41.5 cents to $21.055 an ounce. It ranged between $20.930 and $21.200.

Platinum for October delivery rose $20.50 to finish at $1,632.90 an ounce. It ranged from $1,621.00 to $1,640.80.

Palladium for December delivery jumped $11.85 to $541.90 an ounce. It ranged between $534.05 and $548.85.
In notable bullion quotes of the day:
"People are finally starting to understand that quantitative easing will devalue the currency," Gijsbert Groenewegen, a partner at Gold Arrow Capital Management in New York, said and was quoted on Bloomberg. "That's why they're shifting into gold and silver."
"Possible quantitative easing continues to put a significant weakening into the dollar," Frank McGhee, head precious metals trader at Chicago-based Integrated Brokerage Services, said and was quoted on Reuters. "You're seeing the euro and gold rally together for the first time in a long time. So, the inverse relationship between gold and dollar may be finally reasserting itself."
"The subtle language change that the Fed injected into its post-meeting statement unleashed a torrent of dollar sellers and additional gold buying in the ensuing afternoon and overnight hours," noted Jon Nadler, senior analyst at Kitco Metals, Inc. "The mere mention of 'preparedness' as regards additional accommodation (likely in the form of bond purchases), even if made conditional upon the US economy showing signs that it clearly needs it, was more than sufficient for the throngs of bettors to bet the way they have."
In PM London bullion, the benchmark gold Fix price was $1,293.50 an ounce, up $18.50 from Tuesday. Silver climbed 32 cents to $21.080 an ounce. Platinum settled at $1,662.00 an ounce for an increase of $47.00. Palladium was $543.00 an ounce for a pick up of $13.00.
In United States Mint bullion coins, sales advanced since Tuesday for the Mint's two one-ounce sized gold coins, but remained the same for all others. The 22-karat Gold Eagles advanced 3,000 and the 24-karat Gold Buffalo coins added 1,500. The latest bullion coin figures as published by the United States Mint follow:
U.S. Mint 2010 Bullion Coin Sales
September
2010 Totals
American Eagle Gold 1 oz
53,500
858,500
American Eagle Gold 1/2 oz
1,000
35,000
American Eagle Gold 1/4 oz
2,000
50,000
American Eagle Gold 1/10 oz
15,000
340,000
American Buffalo Gold 1 oz
8,500
207,500
American Eagle Silver 1 oz
1,045,000
24,645,500
Oil and gasoline prices
New York crude oil prices retreated slightly after the Energy Information Administration said inventories were higher for both crude oil and gasoline.
"Those unexpected builds have taken the wind out of our sails," Gene McGillian, an analyst and broker at Tradition Energy in Stamford, Connecticut, said and was quoted on Bloomberg. "The report reminded us of the large supply overhang."
Crude for November delivery retreated 26 cents, or 0.4 percent, to $74.71 a barrel.
The national average for regular unleaded gasoline fell one-tenth of a cent to $2.720 a gallon, according to AAA fuel data. The price is 1.1 cents lower than a week ago, 1.2 cents more than a month back, and 17.6 cents higher than the price from a year ago.
U.S. Stocks
U.S. stocks fell, "dragging the Standard & Poor's 500 Index to its biggest decline in two weeks, as a weakening earnings outlook for technology and financial companies overshadowed speculation the Federal Reserve will take steps to bolster the economy," wrote Rita Nazareth of Bloomberg.
"The Fed's comments were a double-edged sword. On one hand, they're concerned about the economy, but on the other hand, they might do something stimulative. Stocks could go either way," Thomas Villalta, portfolio manager for Jones Villalta Asset Management in Austin, Texas, said and was quoted on Reuters.
The Dow Jones industrial average lost 21.72 points, or 0.20 percent, to 10,739.31. The S&P's 500 Index declined 5.50 points, or 0.48 percent, to 1,134.28. The Nasdaq Composite Index ended down 14.80 points, or 0.63 percent, to 2,334.55.