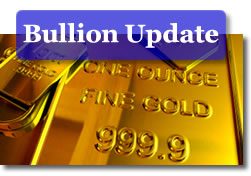 U.S. gold prices closed down for a second straight day on Thursday, dropping $6.60 but off their earlier lows.
For the first time in three days, other precious metals followed gold's negative direction, with silver down 0.8 percent and back below $20 an ounce, platinum off 0.6 percent and palladium behind 1.0 percent.
In other markets, crude oil was hit with a 0.6 percent loss as well while U.S. stocks posted modest gains with the major indexes rising between 0.26 and 0.49 percent.
New York precious metals closing prices follow:
Gold for December delivery lost 0.5 percent to close at $1,250.90 an ounce on the Comex in New York. It ranged from $1,243.50 to $1,260.50.

December silver declined 15.4 cents to $19.855 an ounce. It ranged between $19.755 and $20.095.

Platinum for October delivery fell $8.90 to finish at $1,553.30 an ounce. It ranged from $1,547.20 to $1,564.40.

Palladium for December delivery ended down $5.30 to $521.80 an ounce. It ranged between $517.45 and $528.00.
In notable bullion quotes of the day:
"People are putting the risk trade back on, so we're seeing a rebound in equities and gold lower based on that," Matthew Zeman, a metal trader at LaSalle Futures Group in Chicago, said and was quoted on Bloomberg. "People are waiting to see if prices will come down before they pile back into gold."
"The rally has done a lot, and it is looking a little tired right now, so we wouldn't be surprised to see it consolidate, or come off a bit before trying again," Credit Suisse analyst Tom Kendall said and was cited on Reuters. Suisse expects that gold is likely to reach through $1,300 this year.
"Our own projections made several months ago allowed for a possible $1,280 overshoot of the June figure but only under fresh, crisis-like conditions," noted Jon Nadler, senior analyst at Kitco Metals, Inc." Thus far, the resemblance to Q2's crisis conditions has been as close as that between Ben Stiller and George Clooney. The two of them are both actors, but that's where that stops. See Norway for further clues about the 'imminent risk of default by Greece' that has been fueling some of the recent safe-haven bids on gold by certain spec funds."
In PM London bullion, the benchmark gold fix price was unchanged at $1,255.00. Silver lost 5 cents to $19.970 an ounce. Platinum settled at $1,552.00 an ounce, falling $3.00. Palladium was unchanged at $523.00 an ounce.
In bullion coin news related to the United States Mint, Tarek Saab of Trusted Bullion provides insights and history on the U.S. domestic silver supply and its relationship with American Silver Eagles.
"There is an incredible amount of confusion about a second law which allegedly states that the US Mint must supply its silver 'blanks' from domestic resources," writes Saab. Adding that the "interpretation of the law is extremely relevant because Silver American Eagle sales are now on the verge of surpassing total domestic silver mine production."
For more on the subject, visit SilverCoinsToday.com and read Silver Eagle Sales Nearing Domestic Silver Production.
The U.S. Mint's bullion sales figures are unchanged from Wednesday. The latest numbers follow:
U.S. Mint American Bullion Coin Sales
September
2010 Totals
American Eagle Gold 1 oz
12,500
817,500
American Eagle Gold 1/2 oz
1,000
35,000
American Eagle Gold 1/4 oz
0
48,000
American Eagle Gold 1/10 oz
5,000
330,000
American Buffalo Gold 1 oz
2,500
201,500
American Eagle Silver 1 oz
145,000
23,745,500
Oil and gasoline prices
New York crude oil for December delivery lost 42 cents to close at $74.25 a barrel. High inventory levels reported by the Energy Information Administration was the major cited reason for losses.
"The headline numbers were supportive, so I understand why prices rallied immediately, but they masked a build in total inventories," Tim Evans, an analyst at Citi Futures Perspective in New York, said and was cited on Bloomberg. "There's still a big surplus."
The national average for regular unleaded gasoline rose three-tenths of a cent to $2.683 a gallon, according to AAA fuel data. The price is seven-tenths of a cent higher than a week ago, 9.8 cents lower than a month back, and 11.0 cents higher than the price from a year ago.
U.S. Stocks
U.S. stocks rose higher Thursday, supported by better-than-expected U.S. weekly jobs data and an improved trade deficit.
"The frustrating sideways action in the S&P 500 and many developed markets belies a burgeoning build-up of bullish demand, which holds the potential to power prices significantly higher over the final stanza of 2010 and well into 2011," wrote Auerbach Grayson analyst Richard Ross in a research note relayed by Reuters.
The Dow Jones industrial average rose 28.23 points, or 0.27 percent, to 10,415.24. The S&P's 500 Index added 5.31 points, or 0.48 percent, to 1,104.18. The Nasdaq Composite Index ended up 7.33 points, or 0.33 percent, to 2,236.20.