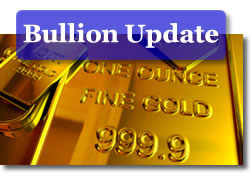 Gold prices rose 1.5% Tuesday as a deadly North Korean missile attack on South Korea rocked markets.
The yellow metal was also boosted by worries over the European debt crisis when attention returned to deficits in Spain and Portugal ahead of the Irish rescue.
Other precious metals climbed as well, but much more modestly. Silver gained 0.4 percent, platinum added 0.1 percent and palladium rose 0.9 percent.
"Gold's up on sovereign risk issues, worries over Ireland, and also the Korean incident, which prompted investors to buy gold and the dollar simultaneously, and that's why the U.S. bond yields are falling," James Steel, chief commodity analyst at HSBC, was quoted on Reuters.
New York precious metals closing prices follow:
Gold prices for December delivery rose $19.80, to $1,377.60 an ounce. It ranged between $1,355.60 and $1,382.90. Gold prices are up 25.7 percent in 2010.
December silver prices advanced 11.1 cents to close at $27.572 an ounce. It ranged from $27.020 to $27.885. Silver has surged 63.7% this year.
Platinum prices for January delivery added $2.20 to $1,657.70 an ounce. It ranged between $1,636.50 and $1,666.00.
Palladium prices for December delivery ended up $6.40 to $691.10 an ounce. It ranged from $659.25 to $694.35.
In PM London gold prices, the benchmark gold Fix was up $21.00 to $1,377.50 an ounce.
"Geopolitical turmoil made an unwelcome reappearance on the scene overnight as North Korea's 200-plus artillery shells landed on South Korean territory and prompted return fire as well as the scrambling of the latter's fighter jets," noted Jon Nadler of Kitco Metals Inc.

"Gold prices were initially held in check as attempts to build on geopolitically induced gains were countervailed by mounting weakness in the euro. That was true up to a point only, however. Gold has historically shown strong bids in the wake of projectiles flying between countries, and this morning was no different," added Nadler.
London silver was fixed to $27.310 an ounce, falling 11 cents from the price on Monday. Platinum was $1,640.00 an ounce, declining $17.00. Palladium fell $26.00 to $674.00 an ounce.
U.S. Mint bullion coins are moving slower than last week's start, with no sales reported for Monday and only modest figures for Tuesday. The one-ounce bullion American Gold Eagle added 10,000 and the smaller one-fourth ounce size advanced 2,000. American Silver Eagles increased by 100,000.
As a comparative measure, the one ounce 22 karat gold coin had risen 12,000 last Monday and Tuesday and the one ounce .999 fine silver coin had jumped 775,000 during the same two days. For a review of how stellar the silver coins have been this month, read 2010 Silver Eagle Scores Three Records.
The following are the latest U.S. Mint sales figures for its bullion coins.
U.S. Mint 2010 Gold & Silver Bullion Coin Sales
November
2010 Totals
American Eagle Gold Coin (1 oz)
79,500
1,056,500
American Eagle Gold Coin (1/2 oz)
4,000
43,000
American Eagle Gold Coin (1/4 oz)
4,000
60,000
American Eagle Gold Coin (1/10 oz)
5,000
385,000
American Buffalo Gold Coin (1 oz)
Sold Out
209,000
American Eagle Silver (1 oz)
3,875,000
32,505,500