The Bullock Specimen of the famous 1856-O double eagle, recently discovered in Ohio and graded XF45+ by NGC, is the main attraction in Heritage Auctions' September 2010 U.S. Coin Auction, Sept. 22-25, in Long Beach, CA.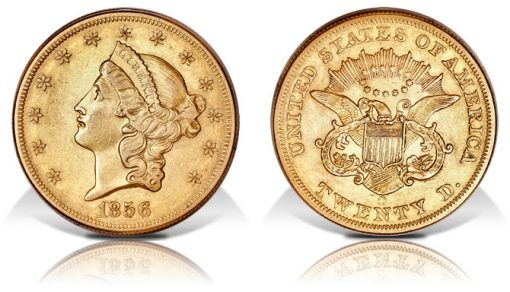 "The 1856-O double eagle is a very rare date," said Greg Rohan, President of Heritage. "No more than two dozen are known, and the real number is probably smaller. Any example is a real treasure, and this piece made a remarkable debut. The announcement of its discovery was front-page news in Coin World, a sign of how important the 1856-O double eagle is to numismatists."
Noted collector John McCloskey identified the coin in the holdings of a family, where it had passed down for three generations. The earliest known owner of the coin was James Bullock, a farmer who lived near Livermore, KY. He acquired the coin some time before his death on June 26, 1923, when it was passed on to his heirs.
The double eagle, along with several other more common gold coins was kept in a safe deposit box until McCloskey was asked to examine the group this year.
McCloskey went through a meticulous process to satisfy himself of the coin's authenticity before announcing his findings. His process and research appeared – as mentioned above – alongside the announcement in the July 26, 2010 issue of Coin World, and an image of the double eagle appeared on the issue's front cover.
"This coin shows all the major diagnostics associated with other 1856-O double eagles," said Rohan. "The most obvious is a die crack on the bottom of the reverse, but there are other, smaller markers as well, such as a 'notch' in the numeral 1 in the date."
NGC has confirmed the authenticity of this 1856-O double eagle, certifying it as genuine and giving it a grade of XF45+.
It will be offered to the collecting public for the first time at the September Long Beach Auction. It is estimated at $300,000+.
About Heritage Auctions
Heritage Auctions, headed by Steve Ivy, Jim Halperin and Greg Rohan, is the world's third largest auction house, with annual sales more than $600 million, and 500,000+ registered online bidder members. For more information about Heritage Auctions, and to join and gain access to a complete record of prices realized, along with full-color, enlargeable photos of each lot, please visit HA.com.