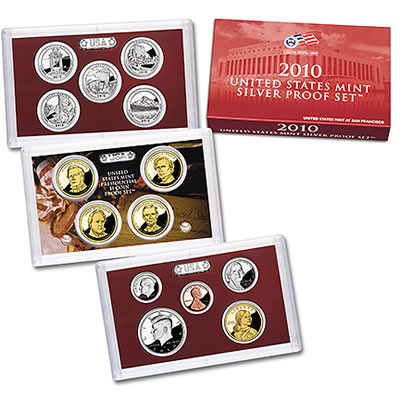 The United States Mint placed the 2010 US Mint Silver Proof Set on sale today, August 26, 2010, for a price of $56.95.
This year's issue contains 14 proofs as compared to last year's set that included 18 and had a price tag that was marked $4 cheaper.
All the Mint's annual sets are more expensive this year. A major factor is the extra cost in producing them. Metal prices are significantly higher. Silver today is right at $19 an ounce. It was near $13 an ounce when the 2009 silver sets launch on July 17, 2009.
Silver Proof Coins in Set
The 2010 Silver Proof Set includes 1.34 ounces of silver, resulting in a silver value alone of nearly $25.50. The coins minted in 90 percent silver include all five 2010 America the Beautiful Quarters™:
2010-S Hot Springs National Park Quarter (Arkansas)
2010-S Yellowstone National Park Quarter (Wyoming)
2010-S Yosemite National Park Quarter (California)
2010-S Grand Canyon National Park Quarter (Arizona)
2010-S Mt. Hood National Forest Quarter (Oregon)
Plus, the 2010-S Kennedy half-dollar and the 2010-S Roosevelt dime.
Non Silver Proofs in Set
The remaining proof coins in the 2010 set are not struck in silver, and include:
2010-S Fillmore Presidential $1
2010-S Pierce Presidential $1
2010-S Buchanan Presidential $1
2010-S Lincoln Presidential $1
2010-S Native American Dollar
2010-S Jefferson Nickel
2010-S Lincoln Cent
All 14 coins are produced at the US Mint in San Francisco and bear the "S" mint mark. They are protected and packaged within three plastic lenses.
As mentioned, all are also struck in proof condition. The Mint's FAQ page describes a proof coin as:
"Finest quality of coin produced by the United States Mint. Their frosted, sculpted foregrounds give them a special "cameo" effect, created by the exacting proofing process. The extraordinary brilliance and sharp relief of United States Mint proof coins shimmers with brilliant, mirror-like background surfaces.

Proof blanks are specially treated, hand-polished, and cleaned to ensure high-quality strikes. The blanks are then fed into presses fitted with specially polished dies and struck at least twice to ensure sharp relief. The coins are then carefully packaged to showcase and preserve their exceptional finish."
The annual sets are a popular offering. The Mint's latest unaudited coin sales figures for the 2009 Silver Proof Set came in at 694,406. A reason collectors purchase them is to acquire the Roosevelt dime and Kennedy half dollar — the set is the only way to get them in 90 percent silver. The silver quarter-dollars can be purchased separately in the 2010 Quarters Silver Proof Set.
Price and Order Details
The 2010 Silver Proof Set may be purchased directly from the US Mint's online store for $56.95. It is the currently featured product at:
Buyers may also call the Mint directly at 1-800-USA-MINT (872-6468).
There are no household order limits in place, and the sets do not have mintage ceilings — demand generally dictates how many are produced. There is a $4.95 shipping and handling charge for domestic orders.