Officially entering the history books as a sellout Monday morning were the 2010 Proof Platinum Eagles. The United States Mint tagged the coin as "Sold Out," moving the product to its "No Longer Available" page within its online store.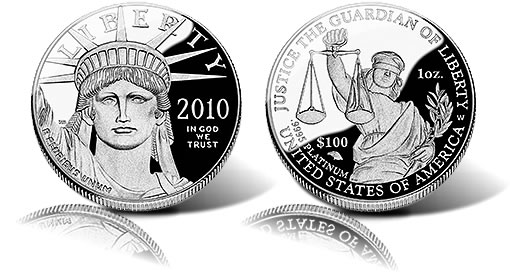 In reality, the 1-ounce .9995 fine platinum coins sold out Thursday, August 19, when collectors purchased their entire 10,000 mintage.
The Mint continued to accept new orders between Thursday and Monday, but those were added to a standby list — fulfilled only if an older order was canceled or failed to process. This guaranteed that all 10,000 Platinum Eagles were sold without having to continually halt and then reopen sales.
Demand for the 2010 eagles was even stronger this year as compared to last year's 2009 proof American Platinum Eagles. The 2009s had a smaller 8,000 mintage and sold out in just over one week. In contrast, buyers grabbed 8,268 of the 2010s between their release on Thursday, August 12, to Sunday, August 15.
The 2010 Platinum Eagle coins opened with a price tag of $1,892, which was determined primarily by the weekly price of platinum at the time. Some who waited to place orders caught a break, as platinum fell and the Mint cut eagle prices by $100 to $1792.
This year's issue is the second of six in a series that celebrates the  principles of American democracy as found in the Preamble to the United States Constitution.
The 2010 design theme is emblematic of establishing justice. The reverse of the coin features a blindfolded justice, symbolizing impartiality, holding traditional scales and carrying a branch of laurel. Inscriptions include UNITED STATES OF AMERICA, 1 oz., .9995 PLATINUM, $100, and JUSTICE THE GUARDIAN OF LIBERTY, which is from the East Pediment of the Supreme Court Building. It was designed by Donna Weaver and sculpted by Phebe Hemphill.
The list of the six principles and the year they have or will have a design celebrating them include:
2009 – To Form a More Perfect Union
2010 – To Establish Justice
2011 – To Insure Domestic Tranquility
2012 – To Provide for the Common Defense
2013 – To Promote General Welfare
2014 – To Secure the Blessings of Liberty to Ourselves and our Posterity
The obverse design of every coin is the same, featuring a "Portrait of Liberty" that is a symbol of vigilance and resolute faithfulness to duty. It was designed and sculpted by John Mercanti.
The Platinum Eagle coin was authorized by Congress in 1996 and first issued in 1997.