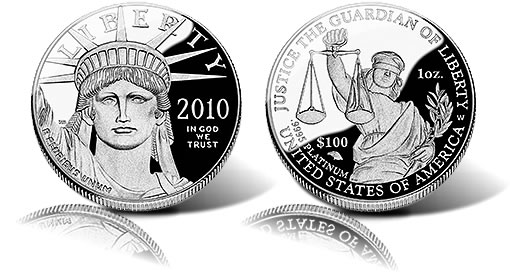 The United States Mint 2010 American Eagle Platinum Proof Coin is nearly sold out, according to coin sales figures released by the U.S. Mint Tuesday morning.
The .9995 fine platinum coins were released Thursday, August 12. By Sunday, August 15, a total of 8,268 had been scooped up by coin collectors and dealers.
At an issue price of $1,892, the proof coins accounted for $15,643,056 in sales during those four short days. More importantly for potential buyers standing on the sidelines, only 1,732 are left as the eagles have a maximum mintage of 10,000.
It would appear they will sellout within days, similar to the 2009s which disappeared with their lower 8,000 mintage in just over a week. Demand for the 2010s is clearly stronger, however, helped by several factors to include high premiums for sellers in the secondary market.
The 2010 platinum coins may be purchased directly from the following:
United States Mint Product Page
Or by calling 1-800-USA-MINT (872-6468). There is an order limit of five coins per household.
The "To Establish Justice" design on the 2010 issue is the second of six design themes which depict the principles of American democracy found in the Preamble to the United States Constitution.