While an official announcement is yet to be made, the 2010 Proof Platinum American Eagle will be released August 12, 2010, at noon Eastern Time, according to a newly published United States Mint product page.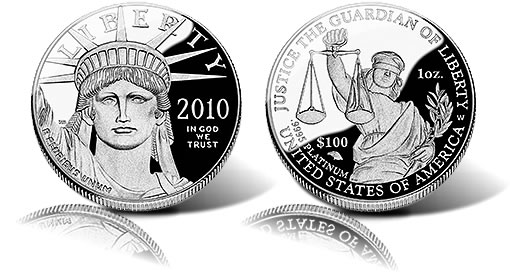 The one ounce, 99.95 percent pure platinum coin is the second of six issues in a series celebrating the principles of American democracy as found in the Preamble to the United States Constitution.
The reverse of this year's proof Platinum Eagle portrays the principle "To Establish Justice." It features a blindfolded justice, which symbolizes impartiality, holding the historic scale of justice and carrying a branch of laurel. Inscriptions include UNITED STATES OF AMERICA, 1 oz., .9995 PLATINUM, $100, and JUSTICE THE GUARDIAN OF LIBERTY, which is from the East Pediment of the Supreme Court Building.
Last year's issue was emblematic of the principle "To Form a More Perfect Union," and depicted the diversity of the nation with four faces on the left looking towards the right, with hair and clothing weaved together.
The list of the six principles and the year they have or will be honored are:
2009 — To Form a More Perfect Union
2010 — To Establish Justice
2011 — To Insure Domestic Tranquility
2012 — To Provide for the Common Defense
2013 — To Promote General Welfare
2014 — To Secure the Blessings of Liberty to Ourselves and our Posterity
The reverse themes were inspired by narratives prepared by John G. Roberts Jr., Chief Justice of the United States, at the request of the U.S. Mint.
Unique with the six-coin series is the privy mark on the reverses, which are from an original coin punch identified at the US Mint at Philadelphia.
The obverse or heads side of each coin remains as it has in the past — the Platinum Eagle coin was authorized by Congress in 1996 and first issued in 1997. The "Portrait of Liberty" design features Lady Liberty looking toward the future.
2010 Platinum Eagle Price & Mintage Limits
The 2010 Proof Platinum Eagle has a mintage limit of 10,000, and a per household order limit of 5. The 2009 eagles had a lower 8,000 mintage, and sold out in just over one week. A sell out is expected for this year's issue as well, despite what will be a higher price.
The price for the 2010 platinum coin will be determined nearer its release and based on the prevailing price of platinum at the time using the U.S. Mint's pricing policy.
Platinum is currently hovering around $1,590 an ounce. Should it remain within the boundaries of $1,550.00 to $1,649.99 an ounce, the new proof platinum piece will launch at $1,892.00, which is exactly $100 more than when the 2009s were released.