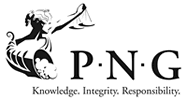 The Professional Numismatists Guild (PNG) has announced the resignation of one member, the suspension of another and the hiring of legal counsel specifically in connection with allegations of "coin doctoring" against some PNG member-dealers.
"The PNG Board has regretfully accepted the resignation of long-time member-dealer Jonathan Kern of Lexington, Kentucky. Mr. Kern was currently serving a two-year term on the PNG Board of Directors, and that position now is being filled by PNG member-dealer James A. Simek of Westchester, Illinois who had the next highest number of votes in last year's PNG election," said Robert Brueggeman, PNG Executive Director.
Meeting in Boston on August 8, 2010, the PNG Board ratified the suspension, effective immediately, of member-dealer Jonathan Lerner of Scarsdale, New York for non-payment of arbitration fees.
In another matter, the Board retained a lawyer to provide the Guild with legal advice specifically in connection with allegations of "coin doctoring" against several PNG member-dealers. The Guild's legal council, Armen Vartian, is co-counsel for the plaintiffs in a lawsuit naming several PNG member-dealers among others as defendants.
"We have retained an independent legal counsel to avoid any potential conflict of interest concerning specific 'coin doctoring' cases involving possible breaches of the PNG Code of Ethics and possible conduct prejudicial to the organization. PNG affiliate member and attorney, Robert A. Levinson of the law firm of Levinson, Arshonsky & Kurtz, LLP in Sherman Oaks, California, will assist the Guild as we investigate these important matters," said Brueggeman.
About PNG
Founded in 1955, the Professional Numismatists Guild is a nonprofit organization composed of many of the top rare coin and paper money dealers in the United States and other countries. PNG member-dealers must adhere to a strict Code of Ethics in the buying and selling of numismatic items. For additional information and the locations of PNG member-dealers, call (760) 728-1300 or visit online at www.PNGdealers.com.