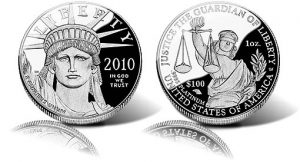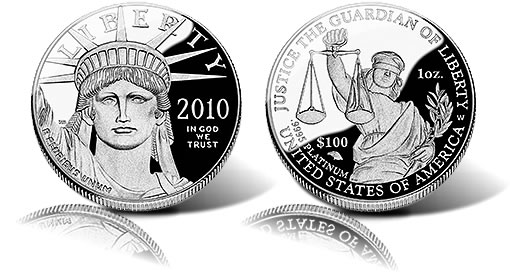 The 2010 Proof American Platinum Eagle Coin was released from the United States Mint nearly two months ago to this day, on August 12, 2010.
Like its immediate 2009 predecessor, collectors quickly snapped up the allotted mintage. In fact, both coins were available for barely more than a week before new orders were placed on a standby only list — processed only if an older order was canceled. The official 2010 Platinum Eagle sold out notice was declared August 23, 2010.
Those quick sell-outs were not terribly surprising given their surrounding conditions. First, collectors were funneled towards the one ounce strikes after the U.S. Mint slashed its product portfolio in 2008, eliminating the fractional sizes and the collector uncirculated versions. Second, as the Mint struggled to keep up with record demand for the gold and silver bullion American Eagles, it also stopped producing the bullion version of the American Platinum Eagle.
With those factors in mind, it becomes easier to understand how two years of entire proof platinum mintages sold out so quickly, despite that they are the most expensive coins the Mint offers. The mintage for the 2009 strikes was set at 8,000. The Mint added another couple of thousand coins to the mintage for 2010, bringing it to 10,000.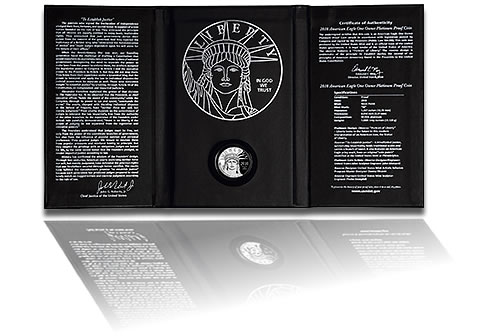 Now that they are no longer available from the Mint, collectors interested in obtaining the strikes must look to the secondary market as their only source.
One of the best sites for determining the current values for these coins is the online auction site eBay. For this past month of September, eBay contained well over 200 individual auctions for the proofs. While not a large number in and of itself, it does represent over 2% of the total mintage.
Recent 2010 Proof Platinum Eagle Values
For reference, the average cost of an ounce of platinum for the month of September was $1,591.75.
With that stated, the average price buyers paid for a 2010 Platinum Eagle came in at $2,297. This is an exceptional return for sellers who may have obtained the coins directly from the Mint for either $1,892 (their initial release price) or $1,792 (the adjusted price a week after the coin's debut). Of course, the $2,297 average takes into account all auctions, including those containing graded coins.
Ungraded 2010 Platinum Eagle Values
Pulling out graded eagles lowers the total number of September auctions significantly — about 25% of the starting number, indicating most sellers have opted for grading to increase their premiums.
Ungraded Platinum Eagles averaged $2,095 for the month, or about $100 more than the Mint's highest price point. The most paid for an ungraded example was $2,349.
Interestingly, the lowest price paid for a single coin (of which several eventually sold at this level) was $1,748.95, down from what the Mint charged. It is unclear as to why the seller opted to take a loss on the coins as little information was given.
Graded 2010 Platinum Eagle Values
For coins that were graded, the highest price realized was for a PCGS graded PR70 DCAM First Strike which sold for $2,849.99. More common prices realized for the grade were around $2,750.
NGC PF70's went for less on average, with sales moving between $2,300-$2,700.
The lowest successful auction for a graded coin was a PCGS graded PR69 DCAM. It sold for $1,953.
2009 Platinum Eagle Values
Looking at 2009 Proof Platinum Eagle values yield significantly fewer results, but even higher closing prices. Topping the successful auctions was a PCGS PR70 First Strike that sold for $3,260. The lowest levels were typically around $3,100, with one dropping to $2,841.
These prices, however, are several hundred more than those that were often seen in early August 2010 — before the 2010's were released.
NGC PF70's were generally less expensive, with several 2009-dated examples coming in at between $2,500-$2,750.
The lowest price paid for an ungraded specimen was $2,300.