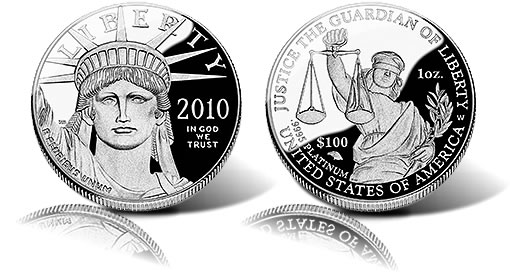 The United States Mint today at noon Eastern Time launched the 2010 American Eagle Platinum Proof Coin for the price of $1,892.
The one-ounce .9995 fine platinum coin continues the collector series which launched in 1997, and is the second issue in a new multi-year themed program that explores the six core principles in the preamble of the U.S. Constitution.
The 2010 proof coin has a limited 10,000 worldwide mintage, and is expected to sellout based on demand levels from prior years. Indications support an early burst of orders. U.S. Mint phone lines were bogged down immediately following the coin's release. Some buyers had to place several calls before successfully reaching a customer service representative.
The 2009 Platinum Eagle proof coin featured the design emblematic of the principle "To Form a More Perfect Union," and sold out with a 8,000 mintage cap in just over a week. Their market values have been enticing for sellers, adding to the demand for the new versions.
This year's issue portrays the principle "To Establish Justice." The design theme, shown on the coin's reverse, features a blindfolded justice holding traditional scales and carrying a branch of laurel. It was designed by Donna Weaver and sculpted by Phebe Hemphill. Also new to the reverse with the six-year issues is an American Eagle "privy mark." The mark is from an original coin punch identified at the United States Mint at Philadelphia.
The obverse or heads side of the coin remains the same, featuring Lady Liberty, as introduced in 1997. It was designed and sculpted by John Mercanti.
The coins are minted at West Point, and bear the "W" mint mark.
The 2010 American Eagle Platinum Proof Coin may be purchased directly from the following:
United States Mint Product Page
Or by calling 1-800-USA-MINT (872-6468). There is an order limit of five coins per household.
The price of the proof coin may go up or down weekly based on the prevailing trend of platinum. It will remain the same until at least Wednesday morning, and will not change unless the London Fix for platinum moves outside of the $1,550.00 to $1,649.99 range for an extended period.
The London PM platinum Fix Thursday was $1,524 an ounce, marking a third straight day of sub $1,550 prices. However, the important days to watch now are Thursday AM – Wednesday AM, as those will determine whether a price change occurs next week — if the coins are still available.