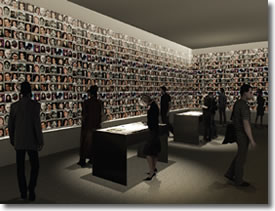 The United States Mint will strike up to 2 million silver medals in 2011 to commemorate the 10th anniversary of the September 11, 2001, terrorist attacks.
The medals are authorized by the National September 11 Memorial & Museum Commemorative Medal Act, which President Barrack Obama signed into law (Public Law 111-221) on August 6, 2010.
$10 proceeds from each medal sold will go to the National September 11 Memorial & Museum at the World Trade Center to support its operations and maintenance following its completion.
The legislation, numbered H.R. 4684 and introduced by Rep. Jerrold Nadler of New York on February 24, 2010, easily sailed through Congress. H.R. 4684 passed in the House on July 20 and then in the Senate on July 22.
"We will soon mark the tenth anniversary of the 9/11 attacks, one of the darkest moments in all of American history," said Nadler. "These medals will serve as a simple commemoration of those who perished, suffered, or are still suffering.
9/11 Medal Design & Specifications
Each medal will include one ounce of silver. Production will be split between the U.S. Mint's in Philadelphia and Denver, with denoting "P" and "D" mint marks on respective strikes.
While not coins in the typical or traditional sense, the 9/11 Act specifically states that each medal must be made "in the quality comparable to proof coins" and that they "shall be considered to be numismatic items."
Design requirements for the medals include the years '2001-2011' and the inscriptions 'Always Remember'.
As is typical with coin or medal legislation, specific design details are left up to the U.S. Mint production process. General requirements in the Act mandate that the medals must be:
"Emblematic of the courage, sacrifice, and strength of those individuals who perished in the terrorist attacks of September 11, 2001, the bravery of those who risked their lives to save others that day, and the endurance, resilience, and hope of those who survived.
The Secretary of the Treasury will select the final medal design after candidates are reviewed by the Citizens Coinage Advisory Committee (CCAC) and the Commission of Fine Arts (CFA), and after consulting with the National September 11 Memorial & Museum at the World Trade Center.
A single medal will likely have a price tag that is around $50, given production costs, their $10 surcharges, and the price of an ounce of silver (spot silver is $18.43 an ounce as of this writing).