United States Mint sales of the 2011 September 11 National Medals have topped $2.9 million since their release on June 20, 2011.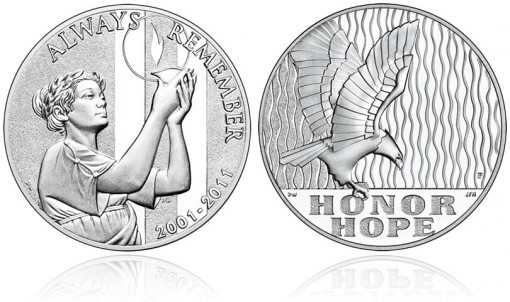 Struck in collector proof quality, buyers have the option to purchase a medal minted in Philadelphia with a "P" mint mark or one produced in West Point with a "W" mint mark. The West Point medals have been favored to date, with sales reaching 33,046 as compared to the 17,952 from Philadelphia. At an introductory price point of $56.95 each and a total of 50,998 ordered, sales have reached $2,904,336.
The medals commemorate the 10th anniversary of the September 11, 2001, terrorist attacks and support the National September 11 Memorial & Museum at the World Trade Center. A surcharge of $10 for each medal sold will be paid to the not-for-profit museum to help support its operations and maintenance once it is completed. The surcharge is a component of the National September 11 Memorial & Museum Commemorative Medal Act of 2010, or Public Law 111-221, which authorized the medal.
The 9/11 national medals are struck from .999 fine silver. Each weighs one ounce and has a diameter of 1.598 inches. A total mintage of 2 million is authorized.
The medal's heads or obverse side "features Lady Liberty holding up the Lamp of Remembrance," describes the United States Mint. Behind her are beacons of light stretching skyward. The Mint notes that the design symbolizes "not just the immeasurable loss on that fateful day, but also the resiliency and triumph of those who persevered."

"The tails (reverse) design depicts an eagle, symbolizing the strength of the survivors, families and Nation, against a backdrop of cascading water. The flowing water is emblematic of peace, serenity, healing and the continuity of life," adds the Mint.
The introductory $56.95 price is available until 5:00 p.m. ET on August 18 when the regular price of $66.95 will go into effect.
Buyers may visit the United States Mint website at http://catalog.usmint.gov/ to make a purchase, or call the bureau directly at 1-800-USA-MINT (872-6468). The medals are expected to begin shipping on September 1, 2011.