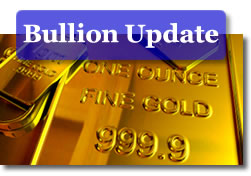 U.S. gold prices rose $8.80 on Thursday as the dollar fell to a three-month low and sparked a bout of bargain buying.
Other precious metals advanced with gold. Silver added 1.0 percent, platinum climbed 1.4 percent and palladium jumped 4.8 percent.
In other markets, the weakened dollar also spurred crude oil to close higher for the first time in a week while U.S. stocks ended modestly lower in volatile day of trading.
New York precious metals prices follow:
Gold for December delivery, now the most active contract, gained 0.8 percent to $1,171.20 an ounce. It ranged from $1,161.60 to $1,172.00.

Silver for September delivery added 17.6 cents to close at $17.617 an ounce. It ranged between $17.480 and $17.695.

October platinum advanced $21.70 to $1,563.40 an ounce. It ranged from $1,540.70 to $1,568.60.

September palladium soared $22.45 to finish at $491.20 an ounce. It ranged between $469.00 and $492.75.
In notable bullion quotes of the day:
"Gold is trading off the dollar," Frank Lesh, a trader at FuturePath Trading LLC in Chicago was quoted on Bloomberg. "The dollar's getting whacked, and that's helping gold."
"Redemptions in the GLD gold ETF (it reported holdings having lost 18.55 tonnes on Wednesday — the most in over two years' time) and the further 13% shrinkage in net-long positions among futures specs (as of July 20) are clear manifestations of an ebb investment flows following the stabilization of the situation in Europe," noted Jon Nadler, senior analyst at Kitco Metals, Inc.

"Clear to all, except the 'back up the truck, honey!' crowd, that is. Evidently, they choose not to read their favorite newsletter writers' (Adens, Gartman, etc.) latest concessions that there is indeed, a possible change in the market's wind and keep rooting for the aggravation of whatever terrible conditions propelled bullion to the figures it reached in June." [Read Nadler's full morning commentary.]
In PM London bullion, the benchmark gold price was fixed earlier in the North American day to $1,162.50 an ounce, rising $5.50 from the price on Wednesday. Silver lost 3 cents to $17.600 an ounce. Platinum settled at $1,553.00 an ounce, rising $18.00. Palladium jumped $19.00 to $488.00 an ounce.
Oil and gasoline prices
Crude oil prices climbed "on a weaker dollar and a general optimism about the outlook for commodities that held even as stocks turned lower," wrote Claudia Assis and Kate Gibson of MarketWatch.
"The oil market is being set by the financial markets," Tim Evans, an energy analyst at Citi Futures Perspective in New York, was quoted on Bloomberg. "We're back to that kind of correlation trade and not paying so much attention to niggly details like rising inventories and rising OPEC production."
New York crude oil for September delivery advanced $1.37, or 1.8 percent, to $78.36 a barrel.
The national average for regular unleaded gasoline fell one-tenth of a cent to $2.744 a gallon, according to AAA fuel data. The price is 2.6 cents higher than a week ago, 1.1 cents lower than a month back, and 23.3 cents more than a year ago.
U.S. Stocks
U.S. stocks ended lower, "as investors weighed cautious comments from a regional Federal Reserve president about the health of the economy and a mix of quarterly profit reports," wrote Alexandra Twin of CNNMoney.com.
Federal Reserve Bank of St. Louis President James Bullard warned of deflation, saying: "The U.S. is closer to a Japanese-style outcome today than at any time in recent history… A better policy response to a negative shock is to expand the quantitative easing program through the purchase of Treasury securities."
In terms of stocks for the day, Robert Weissenstein was quoted on Bloomberg saying: "There's enough nervousness out there — sentiment is extraordinarily tentative. Even in the face of good news there's a hesitation to embrace that." Weissenstein oversees $130 billion as chief investment officer at Credit Suisse Group AG's private banking unit in New York.
The Dow Jones industrial average lost 30.72 points, or 0.29 percent, to 10,467.16. The S&P 500 Index fell 4.59 points, or 0.41 percent, to 1,101.54. And the Nasdaq Composite Index declined 12.87 points, or 0.57 percent, to 2,251.69.