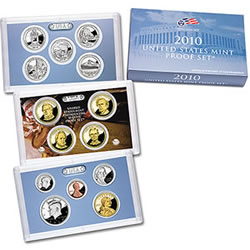 United States Mint 2010 Proof Sets are moving at a fast pace, with opening sales reaching 296,379 between their release on Thursday, July 22, through to Sunday, July 25.
As a comparison, the sister 2010 Mint Uncirculated Coin Set launched less than two weeks ago and opened to sales of 200,764 during their first four days — they have since improved a further 46,321.
The 14-coin clad proof sets are living up to their reputation as the leading product collectors purchase every year. At a price tag of $31.95, they gave the Mint a quick boost of over $9.46 million dollars.
The average per day shows that debuting sales of this year's sets are significantly higher than those from last year (74,095 versus 62,454), but that carries little weight this early into their release. An average is used as the metric since a straight comparison is impossible — opening sales figures for the 2009 Proof Sets covered a longer seven day stretch.
The 2009 sets seem to have a bit of an edge in the long run. They were released earlier in the year, priced $2 less, included 4 more coins and contained the unique redesigned Lincoln pennies with their celebratory bicentennial composition of 95 percent copper (matching that of the original 1909 cent.)
There are too many factors to make predictions for the 2010s. Nevertheless, it is still interesting to get a gut feel for their start over other years.
US Mint Proof Set Debuting Sales
Issue
Price
Coins
Issue
Date
1st Sales
Date
1st Reportd
Sales
Ending
Mintages
2010 Proof Set
$31.95
14
July 22,
2010
July 25,
2010
296,379
–
2009 Proof Set
$29.95
18
June 1,
2009
June 7,
2009
437,178
1,477,967*
2008 Proof Set
$26.95
14
June 24,
2008
July 6,
2008
424,402
1,405,674
2007 Proof Set
$26.95
14
July 19,
2007
July 22,
2007
386,476
1,702,116
*2009 figures are unaudited.
The set may be purchased directly through the United States Mint page:
Orders may also be placed via the Mint's toll-free number, 1-800-USA-MINT (872-6468). Hearing and speech-impaired customers may order by calling 1-888-321-MINT (6468).