Pobjoy Mint is delighted to announce the release of a new coin to commemorate the 175th Anniversary of Hans Christian Andersen's first book of fairy tales, launched on behalf of the British Virgin Islands.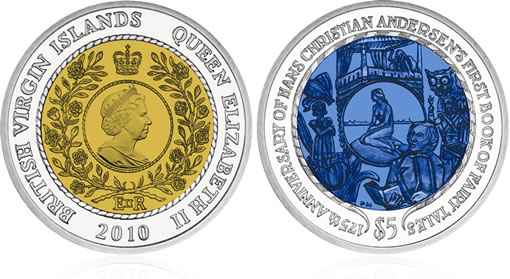 World's First Bi-Color Titanium Coin Celebrates 175th Anniversary of Hans Christian Andersen's First Book of Fairy Tales (Click to Enlarge)
The stories of Hans Christian Andersen are some of the most famous fairy tales in the world, including The Ugly Duckling, Thumbelina and The Little Mermaid. His poetry and stories have been translated into more than 150 languages and have inspired ballet, plays and animated films.
Although his stories have an often sombre undertone, he is renowned worldwide and his birthday, 2nd April, is recognised as International Children's Book Day. He is also celebrated by a statue of 'The Little Mermaid' in the capital of his native country, Copenhagen in Denmark.
Coin Design
In 1835, Andersen released his first book of fairy tales which were not initially well-received. The design of the coin features four stories from this initial book. The central design shows a statue of 'The Little Mermaid,' the story of a young mermaid so desperate to become human she takes drastic measures to fulfill her wishes.
An outer design depicts Thumbelina, the story of a thumb-sized girl destined for bigger things, the Princess and the Pea — the story of a girl whose royal identity is only confirmed when she sleeps on a pile of mattresses and can feel the pea that is placed on the bottom mattress and the 'Tinder Box' — the story of a soldier who acquires a magical tinder box capable of summoning three dogs to do his bidding to woo a locked-up Princess. Also depicted is an impression of Andersen dreaming up these amazing stories.
The reverse of the coin is made in blue titanium while the obverse of the coin is gold coloured. This very special two-tone Titanium also has a precious metal version with a ring of Proof Fine 999. Silver.
Approved by Buckingham Palace, the obverse of the coin bears a fine effigy of Her Majesty Queen Elizabeth II by Ian Rank-Broadley FRBS.
For further information about this coin and the Pobjoy range, please visit www.pobjoy.com.
Hans Christian Andersen Coin Specifications:
| | | | |
| --- | --- | --- | --- |
| Metal | Diameter | Weight | Issue limit |
| Proof Fine 999. Silver with Proof 990. Titanium $5 | 36.10mm | 7.00gms | 5,000 |
| Titanium $5 | 36.10mm | 10.00gms | 7,500 |
# # #
About Pobjoy Mint Ltd.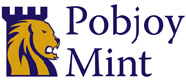 The Pobjoy family have been associated with fine metalwork since the Middle Ages. The Company was recently granted permission to use the family Coat of Arms in which the Medieval Popinjay is the central motif.
Over the past three centuries, the Company has been involved in many diverse fields, but they have always been involved in metal, both base and precious.
For the past 100 years the Company has been deeply involved in the development and manufacture of coins, medals and tokens.