A new book created to help hobbyists introduce the enjoyment of numismatics to children, Coin Collecting for the Next Generation, is now available.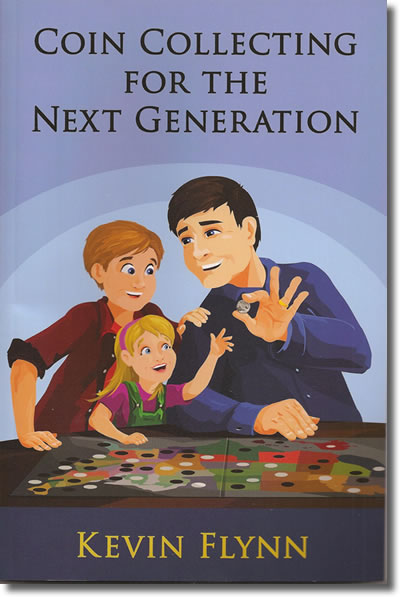 Written by prolific author Kevin Flynn of Lumberton, New Jersey, the 128-page, softcover book gives collectors, dealers and show organizers successful ideas for getting children involved in coin collecting to help the hobby grow in future years.
"This book presents many ideas for making coin shows family and kid friendly. Readers get information about how to make coins fun and exciting for young collectors. Coins also are a good teaching tool on many different subjects including history, math and drawing," said Flynn who now has authored or co-written a total of 38 books about numismatic topics.
The Professional Numismatists Guild (www.PNGdealers.com) provided a $2,500 grant for Flynn to create the book and promote coins to potential young numismatists.
"The PNG leaders understand the importance of the next generation and they clearly want to get kids involved to help our hobby," said Flynn.
The book contains articles written by nearly a dozen contributors including former PNG President Harvey Stack and former American Numismatic Association Presidents Kenneth E. Bressett and David L. Ganz.
"Kevin's book is wonderful. PNG, as well as other trade organizations, should be committed to the future of our hobby. We have to tell our kids about coins. My Dad taught me, and the enjoyment of the hobby led me to where I am today," said PNG President Paul Montgomery.
Coin Collecting for the Next Generation is available for $12.95 per copy. Contact Kyle Vick at Stanton Books and Stone Mountain Supply, 1570 Holcomb Bridge Rd., Suite 120, Roswell, GA 30076. Phone: (800) 828-8306. Online at www.StantonBooks.com. Discounts are available for quantity orders.