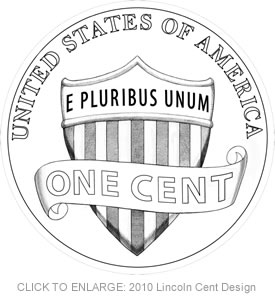 Many collectors and sellers are anxiously looking forward to the 2010 Lincoln Shield Cent launch ceremony in Springfield, Illinois this Thursday, February 11, 2010. There are, however, a few individuals who have taken the initiative in the secondary markets to capitalize on the coins' desirability ahead of their release.
Auctions started appearing on eBay for the new cents as early as the middle of last month. The first sellers were promising rolls of the 2010s, obtained at exchange ceremonies either at the release ceremony in Springfield or in Washington, D.C. Going prices were an astonishing $25 dollars for one roll from D.C., or $35 if the roll was obtained at the Springfield ceremony.
Sellers guaranteed that the 50-coin rolls procured at the chosen site would be stamped with a commemorative Lincoln postage stamp as well as canceled in that city by the local post office on the day of release.
Doing a bit of napkin math, buyers at the top levels were paying up to 70 cents for each penny (of course, they were also paying for the collectibility of the complete roll and proof of release on launch day). While astonishing, it was not the highest premium shown per 2010 cent on eBay over the last month. Some purchasers were paying more than two dollars (with shipping) just to obtain a single 2010 shield cent.
A few rolls sold before some of the new Lincoln pennies were surprisingly released into circulation in Puerto Rico. Once again, entrepreneurs were quick to realize an opportunity with examples quickly appearing on eBay. At $15-$20 per roll, and with the added bonus of the seller having them on hand and ready to ship, the price seemed to be quite a bargain for many.
Of course, these elevated prices are nothing new. All four of the redesigned 2009 Lincoln Cents released last year saw similar spikes in the secondary market before and upon release.
For those who are not familiar with the new penny, it contains an image of a union shield on its reverse meant to symbolize Abraham Lincoln's preservation of the union. The obverse still contains Lincoln's portrait, designed by Victor David Brenner, as it has done since 1909.
For additional information, to include specifications, design details and featured eBay listing auctions, visit the coin information page 2010 Lincoln Cent.